Dr. Jeremy M. Durham - Wichita Family Vision Clinic
Dr. Jeremy M. Durham - Wichita Family Vision Clinic is one of the Three Best Rated® Pediatric Optometrists in Wichita, KS.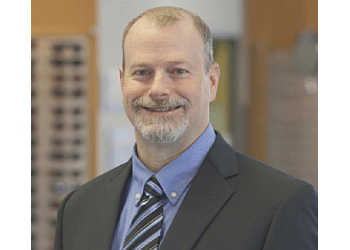 Dr. Jeremy Durham completed his Bachelor of Science in Biology/Athletic Training at Newman University in 1999, followed by his graduation from the Southern College of Optometry in 2003. He is an esteemed member of professional organizations such as the American Optometric Association, Cornea and Contact Lens Society, and is recognized as a Fellow of the Scleral Lens Education Society. Additionally, he holds the esteemed title of Diplomate of the American Board of Optometry. Dr. Durham's expertise and dedication to his field have earned him recognition as one of America's Top Optometrists in 2004 and 2005. He served as the president of the Kansas Optometric Association from 2020 to 2021. Dr. Durham's optometric practice focuses on family eye care, encompassing a wide range of services including spectacles, contact lenses, pediatric eye care, and the management of ocular diseases. He possesses a particular interest in prosthetic scleral contact lenses and addressing dry eye syndrome. Dr. Durham is currently affiliated with Wichita Family Vision Clinic, a comprehensive eye care center. The clinic offers a diverse range of optometric services and eye care products, including eyeglasses, specialty eyewear, frames, and contact lenses. The dedicated staff at Wichita Family Vision Clinic is committed to providing exceptional care and assistance to every patient. Their mission is centered around helping individuals enjoy and protect their vision by embodying compassion, knowledge, and utilizing cutting-edge technology to deliver the highest quality eye health care.
Comprehensive Eye Exam

Scleral Lenses

Low Vision

Neuro-Visual Rehabilitation

Children's Vision

Glaucoma

Diabetes

Macular Degeneration

Cataracts

Dry Eye

Allergies & Eye Emergencies
Dr. Durham and staff were all so friendly. Took a lot of time with me. I did not feel rushed. Felt that concerns were addressed when I left. Very very pleased.
Dr. Durham did 6 month test, yes cataracts, he did a great job knows his job. After eye cataract is done report back for a follow up.
The entire experience is well thought out and consistently runs on time. Very knowledgeable and friendly doctors and staff.
Mon-Fri: 8am - 5pm
Sat & Sun: Closed
Nearby Pediatric Optometrists in Wichita: