Marc A. Johnston - JOHNSTON LAW FIRM
Marc A. Marc A. Johnston - JOHNSTON LAW FIRM is one of the Three Best Rated® Personal Injury Lawyers in Portland, OR.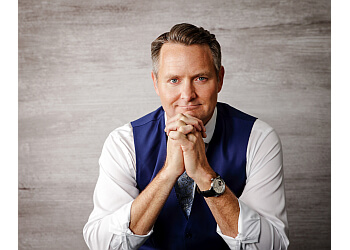 Johnston is an accomplished and approachable personal injury attorney based in Portland. With a strong dedication to justice, Marc represents individuals and their families against dangerous drivers, negligent corporations, and other parties that cause harm and injuries to Oregonians. His primary focus is advocating for and safeguarding the rights of those seriously injured or killed due to negligence or recklessness. Marc has handled thousands of injury and death cases in Portland and across Oregon, showing unwavering diligence and compassion for his clients, who always come first to him and his law firm, the Johnston Law Firm. As the owner and managing attorney of Johnston Law Firm, P.C., Marc and his team treat their clients like family, providing them special attention and care. They offer free, confidential case evaluations to individuals seeking assistance and support in personal injury cases.
Commercial Truck Crashes

Car Accidents

Wrongful Deaths

Pedestrian

Bicycle

Motorcycle

Drunk and Distracted Driving Accident

Catastrophic/Spinal Cord Injuries

Workplace

Industrial

Child Injury

Burn

Brain

Birth Injury

Medical Negligence

Product Liability & Nursing Home Cases
"My husband was in a work accident on Feb 12, 2020 where he was a passenger in a company truck. The driver hit a patch of black ice and rolled down a small embankment. After the first ER visit they told him he had contusions and sent him home. That weekend he was unable to move due to pain so he made another ER visit where that doctor actually did x-rays and turned out that he had a fracture of his C6 and C7 vertebrae in his neck. At this point I knew we needed a lawyer and being from Missouri we didn't know who would be the best. So we contacted Marc and he was absolutely amazing! He was there every step of the way (the whole 2 years). Never sugar coated anything kept us very informed about what may happen to what might happen then to whaT happened with the end results.Marc and his team come highly recommended from my husband. AAAA+++" - Kassandra Salyer.
"In 2018, I was a pedestrian hit by a car in a crosswalk. At a loss for how to navigate this life-altering accident, I turned to Johnston Law Firm. This law firm helped me see the light at the end of the tunnel for my case. Their service was astronomical -- never more than a phone call or email away. The team took care to make sure I was getting the treatment I needed and that all the paperwork was being handled. There was never a moment of doubt that this team truly cared for me and my well-being post-accident. If you are injured and need help, definitely give this law firm a call!" - Sally Martinez.
In October I was hit by an impaired driver. I sustained life altering injuries. From my hospital bed I contacted The Johnston Law Firm. From the moment they answered the phone, they were the most caring, professional, and kind people that I have had the pleasure of working with. Andrea was always there to answer my calls and emails without fail. Marc was available any time I asked. I'm not writing this review just because they prevailed in my case, I would be writing it regardless due to their kindness and professionalism in representing me and my interests. It was a great relief for me from the moment they answered the phone. I would give them 10 stars if I could. - AR
Designated as One of Oregon's Top 50 Super Lawyers, Which Names the Best Attorneys from More than 70 Practice Areas - Named Among the National Trial Lawyers Top 100, Which Lists the Premier Trial Lawyers in Each State and Region - Membership in The Multi-Million Dollar Advocates Forum
Nearby Personal Injury Lawyers in Portland: