Evergreen Pharmacy
Evergreen Pharmacy stands proudly as an independent and locally owned pharmacy, bringing over 30 years of invaluable pharmacy experience and a legacy of award-winning service to the San Jose community. Evergreen Pharmacy is one of the Three Best Rated® Pharmacies in San Jose, CA.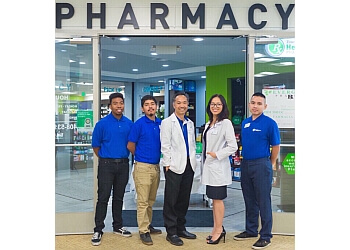 When it comes to the medications you require, you can have complete confidence in Evergreen Pharmacy. Their unwavering commitment to excellence is reflected in their dedicated team, which strives to deliver prompt, reliable, and professional service, going above and beyond what you may have experienced elsewhere. At Evergreen Pharmacy, each customer is treated with a personal touch, as they understand the significance of a tailored approach that is often lacking in larger establishments. Safety and quality are paramount, and they spare no effort in ensuring the provision of safe and high-quality pharmacy services. Furthermore, Evergreen Pharmacy extends its support to nursing homes, assisted living housing, and clinics, catering to the unique needs of these healthcare facilities. Located at 2365 Quimby Road Suite 150 in San Jose, CA, Evergreen Pharmacy is conveniently situated to serve the community and make a positive impact on the lives of its residents.
Prescription Refill and Transfers

Medication Synchronization Service

Blister Pack

Pain Management

Asthma

Cold

Cough

First Aid Supplies

Diabetes Care

Men's

Women's & Kids Health
I've been going to this pharmacy forever. Actually, my husband has to pick up my meds do to my hours, but they are great. They remember names, and they remember illnesses, I mean.....it's like they have a scanner at the door which downloads all your info before you get to the counter. They are very friendly and always accommodating. We love them. 8o)
I had been going to the same pharmacy since I was a child and I always had such a terrible experience there that when I went over here I had no idea what to expect! I am very close by and I wish I had transferred sooner. I can't say much about the pharmacists, but the boy techs (?) In the green shirts are always so genuine and sweet! I am always helped and recognized immediately each month I am here and each visit is always quick and enjoyable. If your current pharmacy isn't doing the job with a smile and a good attitude, you need to come over to Evergreen pharmacy! They're so efficient!
What a great pharmacy. It is beyond genuine. The staff is amazing and I can trust that they have the customer's best interest at heart.
Best of San Jose' Drugstore in 2017
Mon-Fri: 9am - 6pm
Sat & Sun: Closed
Nearby Pharmacies in San Jose: