Andrew Walker, PT - PHYSIOWORKS, SPORTS AND WELLNESS, INC
Andrew Walker is a renowned physical therapist in Huntsville who has gained recognition for his expertise in the field. Andrew Walker, PT - PHYSIOWORKS, SPORTS AND WELLNESS, INC is one of the Three Best Rated® Physical Therapists in Huntsville, AL.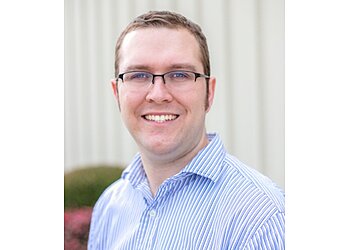 In 2003, he completed his physiotherapy education at the University of East London. Andrew is deeply committed to evidence-based practice and consistently strives to incorporate the best available evidence into his treatment approach, aiming to facilitate quicker recovery and improve patient performance. His clinical focus revolves around sports injury rehabilitation, injury prevention, and the study of running biomechanics. He is driven by a passion for assisting active individuals in Huntsville and Madison in preventing and recovering from injuries. Andrew practices at PhysioWorks Sports and Wellness, a clinic that emphasizes active treatment methods designed to strengthen the body, alleviate pain, and address biomechanical issues. They offer comprehensive care for various musculoskeletal injuries and are eager to support you in returning to pain-free engagement in the activities you enjoy. You can initiate the process by requesting a discovery consultation at the clinic.
Tendon Pain

Knee

Manual Therapy

Shoulder

Ankle

Post-Surgery

Spine

Foot

Bone

Elbow

Hip

Ankle Sprains

Rotator Cuff Tears

Stretching

Wrist

Blood Flow Restriction Training

Carpal Tunnel Syndrome

Running Assessment & ACL Injury Prevention
Andrew is super great! He keeps up with the latest research and uses it to better treat his patients. I came to him because I was having knee pain that kept me from running like I wanted to. He did a running analysis and identified some problem points. With the exercises her prescribed, I was able to get back to running (and was stronger), and I even completed a half marathon only a couple months after starting PT. Unlike traditional PT, I only had to go a few times over a couple months as opposed to several times per week, so it was much more convenient for my schedule as well. And Andrew is incredibly friendly, very responsive, and all around great to work with. I highly recommend him for any sports-related PT needs!!!
Andrew was recommended to me by several members of the Huntsville running community when I experienced pain in my right heel this winter that severely impacted my running. Andrew examined my running style and leg strength and gave me a series of exercises that quickly helped reduce the pain and build back up my running. Andrew has a great knowledge of the latest research and targeted solutions for individual runners. Now I am running pain free and feel I have a better foundation for long term running fitness.
I really enjoyed working with Andrew! His plan to get me back to healthy running was personalized and easy for me to do on my own time. After working with Andrew I was able to set a marathon PR. I would recommend Andrew for anyone seeking running specific physical therapy!
Mon-Fri: 7am - 5pm
Sat & Sun: Closed
Nearby Physical Therapists in Huntsville: