Jonathan Zecher, PT, DSc, OCS, COMT, FAAOMPT - Focus Physiotherapy
Jonathan Zecher is a graduate of the Department of Physical Therapy at the University of Alabama in Birmingham and has been working as a manual therapist in Huntsville/Madison since 1999. Jonathan Zecher, PT, DSc, OCS, COMT, FAAOMPT - Focus Physiotherapy is one of the Three Best Rated® Physical Therapists in Huntsville, AL.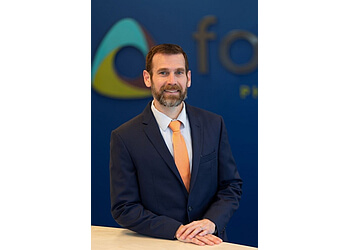 He furthered his education by obtaining a Doctor of Science (DSc) in Physical Therapy from Andrews University. Jonathan holds the prestigious Orthopedic Specialist (OCS) certification from the American Board of Physical Therapy Specialties and earned advanced credentialing in manual therapy the following year. In 2009, he completed a fellowship (FAAOMPT) in orthopedic manual therapy. As the founding partner of Focus Physiotherapy, Jonathan and his team create customized treatment plans tailored to each individual's needs and goals. Focus Physiotherapy has multiple locations, including branches in Madison and NE Huntsville.
Back

Ankle and Foot

Hip Pain Dizziness and Balance Issues

Wrist and Hand

Elbow

Neck Pain

Tendon Problems

TMD and TMJ

Scoliosis

Sports Injuries

Migraines and Headaches & Women's Pelvic Health
Focus Physiotherapy was amazing!!! I had an athletic injury and they did a wonderful job at helping me progress back to 100%. Stacey was great and listened to how I was feeling and told me everything I needed to do to recover from surgery. Definitely recommend to any athletes out there!! Come to Focus if you want to return better than before!!!
I love these people! My therapist was outstanding, I came in with knee pain, back pain, neck pain and pain in my hands and each week I was here I was treated well, discussed my therapy, and discussed the potential causes of my pain. I was allowed to be very involved in my own treatment and it was understood that meds didn't really work well for me. Each week we worked on different things and I got stronger and felt better each week! I highly recommend coming here for therapy and help when you need it!!
The most amazing staff and well knowledgeable therapists! I always feel welcome and my concerns are always heard with compassionate ears and a game plan is made to get me to optimal level of functioning. I highly recommend Focus Physiotherapy.
Mon-Thu: 7am - 6pm
Fri: 7:30am - 6pm
Sat & Sun: Closed
Nearby Physical Therapists in Huntsville: