Smiling with Hope Pizza
Smiling with Hope Pizza is a traditional family pizza restaurant . Smiling with Hope Pizza is one of the Three Best Rated® Pizza Places in Reno, NV.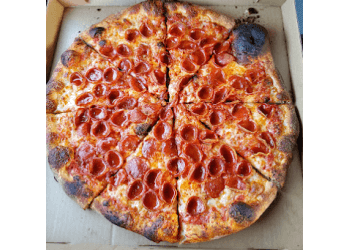 They take pride in offering an enticing variety of Italian delicacies, along with Continental and Mediterranean cuisines. The courteous staff here is the key to enhancing the overall dining experience, making it even more enjoyable. This wonderful establishment is owned by Walter, whose remarkable accomplishments include creating award-winning pizzeria/bakery businesses in public schools across CA, TX, and OH. These businesses were not just successful ventures but also served as training grounds for students with disabilities, equipping them with valuable skills for competitive work. One of the highlights of the dining experience at Smiling with Hope Pizza is the opportunity to customize your own pizzas. With a range of dough, sauces, toppings, and cheese to choose from, you can create your perfect pizza masterpiece. And for those with specific dietary needs, the restaurant also provides a gluten-free crust option. Smiling with Hope Pizza offers a delightful dining experience and plays a positive role in the community by creating opportunities for students with disabilities. Come and experience the joy of fantastic food, warm hospitality, and making a difference in people's lives.
MENU: Ny Ricotta Red or White

Pepperoni

Peppers

Anchovies

Classic Ny

Ricotta Sicilian

Onions

Fresh Basil

House-Made Sausage

Black Olives

Mushrooms & Fresh Garlic
Fantastic NY Style thin crust pizza. Easily the best NY style pizza in Reno and for my money the best pizza of any style in Reno. Amazingly chewy, moist, yet light crust. I have eaten at many of the top pizza places in the US and Europe and would rank this pizza as the best NY style pizza I have had. If you value truly good pizza, do yourself a favor and eat this pizza.
Mama Mia! That's a damn good pizza pie! Just the way we love our pizza-crispy, thin crust with lots of "bubbles," delicious sauce and generous toppings. Delightful staff-I love a business that thanks their customers for supporting them. Knowing the owners are Bills fans, I wanted to wear my Josh Allen Jersey when I picked up my pizza, but the weather was too warm. Had a spirited chat with the staff about the Bills and Eagles. I'm a die hard Eagles fan, but I adore Josh Allen. Hubby and I have not found many pizza places in Reno that are authentic New York style, but Smiling With Hope Pizza really reminded of us of the pizza we used to get in Philly and Jersey. Squisito!
I haven't tried them all, but this is the best we've had in the Reno area. The crust is insanely good. The sauce is perfect, lots of tang and stands out for sure. The owner was very appreciative and made us feel at home. The menu is small and simple which is preferred. The prices are in line with other quality pizza shops, but the quality is top notch! We'll drive from across town to visit again.
Wed & Thu: 4pm - 7pm
Fri & Sat: 12pm - 8pm
Sun-Tue: Closed
Nearby Pizza Places in Reno: