David A. Shifrin, MD - SHIFRIN PLASTIC SURGERY
David A. Shifrin, MD - SHIFRIN PLASTIC SURGERY is one of the Three Best Rated® Plastic Surgeon in Chicago, IL.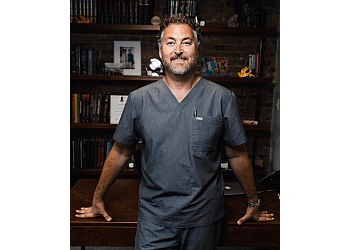 Dr. David A. Shifrin is a renowned plastic surgeon with numerous awards for his exceptional work. He completed an advanced training program in Michigan and is recognized as a fellow of the American College of Surgeons. Dr. Shifrin is a member of esteemed professional organizations, including the American Society of Plastic Surgeons, the American Academy of Facial Plastic and Reconstructive Surgeons, and the highly selective American Society of Aesthetic Plastic Surgeons. With a strong academic background, Dr. David has contributed to the field through a peer-reviewed journal article reviews and presentations at national conferences. His commitment to staying abreast of the latest advancements in plastic surgery is evident in his continuous pursuit of knowledge and sharing of expertise. At Shifrin Plastic Surgery in Downtown Chicago, Dr. David devotes his attention to enhancing the cosmetic quality of his patients. Specializing in breast augmentation and body contouring surgery, he combines his deep understanding of anatomy and scientific principles with his surgical skills to artfully improve his patients' natural attractiveness. Dr. Shifrin takes pride in providing personalized care and helping his patients achieve their aesthetic goals with exceptional results. Dr. David A. Shifrin has established himself as a trusted and sought-after plastic surgeon in Downtown Chicago with his passion for his craft and dedication to enhancing his patients' physical attributes.
Face

Brow and Necklift

Volumetric Fat Grafting

Asian Eyelid Shaping

Nose Reshaping

Prominent Ears

Scar Revision

Torn Earlobe Repair

Lip Rejuvenation

Breast Augmentation

Reduction

Lift

Nipple Areola and Chin Surgery

Liposuction

Revision Tummy Tuck

Mommy Makeover & Butt Implants
I can't say enough about Dr. Shifrin and my amazing experience. The office staff is so kind and professional and the doctor made me feel so comfortable. Best of all, I'm thrilled with my results. I have recommended him to everyone that is looking into breast augmentation. I had about a thousand questions during my consultation and he is so patient and knowledgeable. Love this place!
Dr. Shifrin was honest and friendly. This was a long awaited surgery for me and he has amazing skill as a surgeon. My neck and back no longer ache and I'm learning how to stand up straight. His partners and the office are excellent and have also answered every question that I have had. I'm extremely grateful and happy with my results. Follow-up care—excellent!
Dr. Shifrin is the best! I had a breast lift, liposuction of my thighs, and a tummy tuck. I'm so happy with the results! My scars are not visible at all and it's been almost 2 years since my surgeries. The staff was so warm and friendly and made me feel so comfortable during each appointment. They answered all my questions and helped me plan my surgeries. I would definitely recommend Dr. Shifrin to anyone considering plastic surgery!
Top Plastic Surgeon Chicago region 2012 and 2013 by Health Tap
Mon-Fri: 9am - 5pm
Sat & Sun: Closed
Nearby Plastic Surgeon in Chicago: