GoldenWest Management Inc.
GoldenWest Management Inc. GoldenWest Management Inc. is one of the Three Best Rated® Property Management in Las Vegas, NV.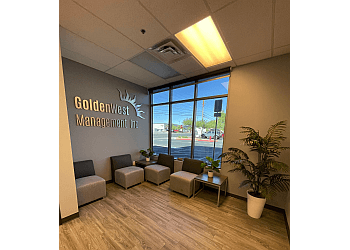 is the most trustworthy property management company in Las Vegas, Nevada. As your neighborhood property management company, They aim to ensure that your rental works for you without you having to work on it. With a focus on client communication, GoldenWest is dedicated to transforming your rental experience. Because income property is often personal, they pledge to provide full-service management with the highest service and integrity. They provide full-service property management to single-family homes, townhouses, and condos. They provide advertising, e-services, a comprehensive application process, maintenance and repairs, inspections, legal services, and full property accounting, all to make sure they Rent It Like You Mean It.
Lease Up and Tenant Procurement with a Comprehensive Screening

Professional Photography

Online Payment for Tenants and Landlords

Online Owner Portal and Tenant Access

Dedicated Maintenance Department

Repairs

and Inspections

Eviction Services & Full Property Accounting
I recently listed my home with the local GoldenWest Management office. In less than two weeks they procured a tenant with perfect credit to rent our home. After coming out of a situation with our last renter where we had nothing but problems, we were thankful that the leasing agent looked after our property. It's been 6 months and everything is running smoothly. - Nancy L.
I want to thank the GWM team for all their help and guidance. I hired GoldenWest to take over for a previous management company and help clean up the mess they created. GWM assisted in evicting the tenant (who wasn't paying rent), find me contractors who brought the property back to rentable condition, and then helped find a great new tenant. - Gerry G.
They kept me in the loop the entire time and worked diligently to ensure the repair was handled efficiently. I am 1000 miles away and don't want to spend my weekends handling these kinds of emergencies. Thank you, GoldenWest Management, for all that you have done for our property. Their knowledge and experience with Landlord-Tenant issues made a stressful situation much easier to handle. - Erica H.
Full-Service Management Starting at 8% per Month
Mon-Fri: 9am - 5pm
Sat & Sun: Closed (Appointments Available)
Nearby Property Management in Las Vegas: