Lake Highlands North Recreation Center
Lake Highlands North Recreation Center, one of Dallas's most popular recreational facilities, has undergone several transformations over the years. Lake Highlands North Recreation Center is one of the Three Best Rated® Recreation Centers in Dallas, TX.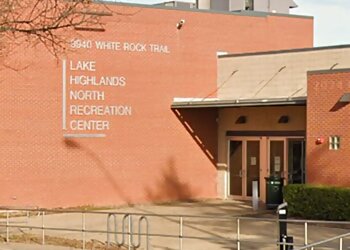 Initially known as Skyline Recreation Center, it opened its doors a decade ago. In 1998, an expansion project added a dedicated senior wing, and in 2012, the center underwent renovations to enhance its existing features. The facility boasts various amenities, including a cozy meeting room, beautiful garden areas, fishing spots, and a baseball field. Additionally, visitors can enjoy a refreshing pool, a picturesque lake/pond, a well-equipped kitchen, scenic trails, and a delightful playground for children. Ample parking is conveniently available in front of the center. Originally acquired from F.A. and Agnes Dahman in June of 1961, the park spans 29 acres, providing an excellent space for outdoor activities such as playground fun, a splash park, tennis, pickleball, and volleyball. Overall, the Lake Highlands North Recreation Center and its accompanying park offer a fantastic combination of facilities for leisure and enjoyment.
Fitness Center

Small and Large Meeting Room

Garden Areas

Fishing

Baseball Field

Nature Observation Platform

Pool

Lake / Pond

Kitchen

Trails

Playground & Parking
Love visiting this pool. The kids feel safe with the life guards on staff and they are always polite and respectful! Nice young men and women working there!
My husband places handball here. It's awesome that the City of Dallas has dedicated these courts for the guys that play handball. It's amazing watching them play.
The staff is always fun and friendly. I love how mellow the place is. Great gym. Very safe and affordable.
Mon-Thu: 9am - 8pm
Fri: 9am - 7pm
Sat: 9am - 2pm
Sun: Closed
Nearby Recreation Centers in Dallas: