Sindbads Restaurant and Marina
Sindbads Restaurant and Marina is an enchanting waterfront establishment that combines a seafood-themed restaurant with a marina, offering breathtaking views of the Detroit River. Sindbads Restaurant and Marina is one of the Three Best Rated® Seafood Restaurants in Detroit, MI.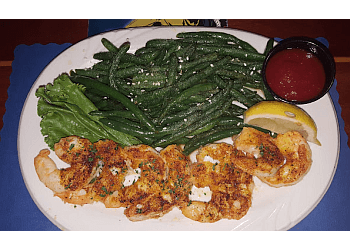 Nestled by the water's edge, the restaurant provides a captivating setting and an impressive menu for discerning diners. For those seeking an elevated experience, the second-floor Sohar Room features an open balcony that grants an even more stunning panoramic view of the water. This space is available year-round, making it ideal for private banquets and parties. Sindbads Restaurant and Marina take pride in its delectable seafood offerings. Indulge in the succulent rock lobster tails served with luscious drawn butter, or savor their signature dish: fresh Atlantic salmon adorned with a tantalizing bourbon glaze. Expect a superb selection of seafood and steak dishes that will delight your taste buds. The venue welcomes guests every day, serving both lunch and dinner. In addition to their seafood specialties, Sindbads also offers an array of delectable sandwiches and salads. The establishment boasts a full bar that serves up generous pours, thoughtfully selected wines, and a diverse selection of bottled and tap beers. Whether you choose to dine in, opt for convenient curbside pickup, or enjoy the convenience of delivery, Sindbads ensures a remarkable dining experience.
MENU: APPETIZERS: Blue Hill Bay Mussels

Jumbo Shrimp Cocktail

Portabella Mushrooms

Sesame Chicken Tenders

SOUPS AND SALADS: Home Made Soup

Homemade Clam Chowder

Coconut Shrimp Salad

SINDBAD'S FAVORITES: Buster's Angus Burger

Sindbad's Special & Van's Fish Sandwiches
This was my first visit to this establishment. I enjoyed every minute. Nice view of the water and marina. Food, drink, and dessert was excellent. The food came out quick, much quicker than we expected. The wait staff was very attentive. This is one of the places you have to try.
We had a delicious lunch here. I recommend getting the orange roughy fish sandwich. The clam chowder and chili were also very good, and the waitress was very nice.
A wonderful place to eat at. A throwback to another decade in time.
Appetizers & Sides starts from $12
Soups & Salads starts from $5
Sandwiches starts from $12
Sindbad's Favorites starts from $11
Treasures of the Land and Sea starts from $16
Drinks starts from $3
Desserts starts from $8
Tue-Fri: 11am - 9pm Sat: 12pm - 9pm
Sun: 1pm - 8pm
Mon: Closed
Nearby Seafood Restaurants in Detroit: