The Stockyards Steakhouse
The Stockyards Steakhouse opened in 1947 with a historic beef menu. The Stockyards Steakhouse is one of the Three Best Rated® Steak Houses in Phoenix, AZ.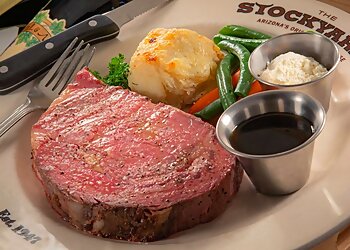 Seasoned steaks, the best corn, and prime ribs are always on the Stockyard menu. Their new Western restaurant celebrates the history and culinary traditions of the Southwest while using the freshest, highest-quality natural produce in a modern and creative way. The restaurant celebrates 70 years as the Original Steakhouse of Arizona. The Stockyards Steakhouse has retained the comfort and charm of the Old West while reclaiming its place as one of Phoenix's most popular steakhouses. They offer professional event organizations for groups from 15 to 225 people. Occasional events, from business meetings to rehearsal dinners, are carefully prepared to meet all your expectations. Their banquet menu is in tune with Southwestern culture and culinary trends, offering a choice of three, four, and five course options. An extensive Arizona wine list is available to complement their menu.
MENU: Crab Cake

Grilled Medallions of Elk

Skillet Salmon

Pan-Seared Tomahawk Pork Chop

Southwestern Scampi Style Shrimp

Herb Roasted Half Chicken

Pecan Dusted Walleyed Pike

American Bison Meatloaf

Tortilla Crusted Pan Seared Rainbow Trout

Crunchy Fried Shrimp Platter & Steak Burger
Superb food and administration. We were welcomed energetically at the front entryway and situated quickly. The bread crate was brought even before we had chosen our courses. Had an amazing Bison ribeye impeccably cooked. They appeared to be occupied for right off the bat a weeknight however not swarmed. Definitely worth the visit.
Excellent food and service. We were greeted warmly at the front door and seated promptly. The bread basket was brought even before we had selected our entrees. Had an excellent Buffalo ribeye perfectly cooked. They seemed busy for early on a weeknight but not crowded. Well worth the visit
We celebrated our 51st Anniversary here. The food was perfect. Our beautiful water glasses were never empty. Our waiter John was perfect too. He even gave us each a complementary dessert which was unbelievable for our anniversary. It is a lovely establishment with plenty of parking. I definitely would put this place high on my list of favorite restaurants in Phoenix!
APPETIZERS:
Bourbon Glazed Shrimp $26
Paloma Ranch Calf Fries $18
Shrimp Cocktail $24
Wild Boar and Venison Sausages $22
Pan Seared Crab Cake $24
ROASTED PRIME RIB OF BEEF:
Cowboy Cut $55
Cattle Baron's Cut $65
Tenderfoot Cut $45
STOCKYARD STEAKS:
The Arizona Cut Bone-In Ribeye $80
Bone-In Delmonico $70
New York Strip $52
Filet Mignon $46
Ribeye $55
ENTREES:
American Bison Meatloaf $34
Calf's Liver $30
Grilled Chopped Steak $32
Grilled Medallions of Elk $60
Herb Roasted Half Chicken $32
Jumbo Fried Shrimp Platter $40
Pan Seared Tomahawk Pork Chop $42
Seared Chilean Sea Bass $52
Skillet Salmon $40
Sonoran-Sauced BBQ Baby-Back Ribs $40
Southwestern Scampi Style Shrimp $40

LUNCH:
Mon-Fri: 11am - 2pm
DINNER:
Mon-Sat: 5pm - 9pm
Sun: 5pm - 8pm

Nearby Steak Houses in Phoenix: