SecureSpace Self Storage Nalley Valley
SecureSpace Self Storage Nalley Valley is a storage company that caters to various budgets and storage requirements. SecureSpace Self Storage Nalley Valley is one of the Three Best Rated® Storage Units in Tacoma, WA.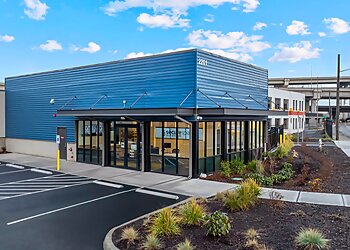 They offer a comprehensive range of unit sizes and types, including vehicle storage, at their modern facility in Tacoma. The facility boasts state-of-the-art security features to ensure customers' peace of mind. The unit sizes available range from 5x5, 5x10, 5x15, 10x10, 10x15, 10x20, 10x25, and 10x30. Customers who are unsure about the ideal storage unit size for their needs can refer to the company's storage unit size guide online or contact their expert staff, who are always ready to help. SecureSpace Self Storage takes pride in offering the most straightforward and secure storage options in Tacoma to its customers.
Business

Personal

Car

Trucks

Vans

Commercial

Residential

Vehicle

Trailers

Motorcycle

RV Storage

Packing and Moving Supplies

Outdoor Boat Parking

Climate Controlled Units

Mail Boxes for Rent & Unit size 4' x 4' to 13' x 15'
Joanne at the front desk was very nice and helpful. Even though I was a walk-in customer she suggested that I reserve the unit online via SecureSpace. com, which saved me a month's rent I only wish the access hours were earlier, as I won't be able to get in before 9am.
Would definitely recommend to family and friends.The units are well lit and kept very clean.Employees are friendly and helpful.
Love the manager; cat is a real sweetie too. Great security and even greater prices. I love this storage unit.
4x4 - $61
5x7 - $99
5x7 - $108
8 x 10- $159
10x10 - $169
9 x 10 - $163
10x11 - $196
10x15 - $261
11x17 - $282
11x18 - $312

Discount
50% Off Two months
Mon-Sat: 9am - 7pm
Sun: 11am - 4pm
Nearby Storage Units in Tacoma: