H&R Block Irvine
H&R Block is renowned for its exceptional tax services situated in Irvine. H&R Block Irvine is one of the Three Best Rated® Tax Services in Irvine, CA.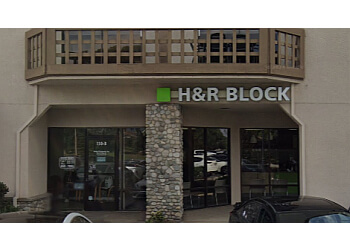 They have been instrumental in assisting millions of small business owners with their tax obligations. Offering a comprehensive and professional approach, they excel in tax notice services and possess the expertise to resolve tax-related issues. Their tax professionals are well-versed in various federal and state tax matters, ensuring your tax needs are handled efficiently. With a team of 60,000 tax professionals boasting an average of ten years of experience, H&R Block guarantees expertise and competence. Their commitment to year-round assistance ensures that they are available to help you stay on track, addressing any tax questions, issues, amendments, or extensions that may arise. Transparency is key to H&R Block's service, offering upfront pricing with no hidden fees. They provide a maximum refund guarantee that instills confidence in their tax preparations, ensuring they are dedicated to optimizing your refund. With their unwavering commitment to customer satisfaction, H&R Block is always ready and delighted to assist you with any tax-related needs. H&R Block also has three other branches in Irvine, providing additional options for those seeking their services. Arrange a complimentary consultation to determine the service that best meets your requirements.
Online Tax Filing

File with a Tax Pro

Tax Software

Second Look Review

Peace of Mind

Tax Identity Shield

IRS Penalties

Expat Tax Services

Audit and Tax Notice Support

Bookkeeping

Payroll & Accounting
H&R Block has prepared my taxes for years and I have peace of mind knowing they were done correctly. Thank you Michele Molnar at the Irvine location on Barranca.
There were some hiccups with my federal return, but after determining the issues, Lynda sat down with me and we fixed them. She did a wonderful job and I hope to see her next year.
I'm very satisfied with my experience. Kate Kuzmitz went above and beyond and was very professional. Will definitely come back next year.
Mon, Tue & Thu: 10am - 5pm
Sat: 10am - 4pm
Fri: By Appointment
Wed & Sun: Closed
Nearby Tax Services in Irvine: