Green Vegetarian Cuisine
Green Vegetarian Cuisine is a relaxed eatery that offers an elegant dining experience, specializing in vegetarian and vegan renditions of everyday dishes. Green Vegetarian Cuisine is one of the Three Best Rated® Vegetarian Restaurants in San Antonio, TX.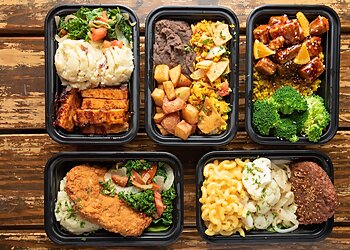 With a mission to provide mouth-watering and affordable plant-based comfort food, they cater to a diverse community of customers. Their goal is to offer an extensive range of options for vegetarians and vegans, encouraging healthier choices in the realm of fast food. Drawing inspiration from their Southwest Tex Mex roots, their team skillfully prepares plant-based Southern comfort favorites. Green Vegetarian is proud to be Kosher certified, and every item on their menu can be made vegan. By blending the finest elements of Texas cuisine, they have crafted a menu that appeals to both herbivores and those curious about vegan options. With their friendly and attentive staff, excellent customer service is guaranteed. Green Vegetarian Cuisine provides an ideal setting to relax and unwind with friends and family. Don't miss out on their delightful offerings, such as deep-fried dill pickle spears and cauliflower hot wings. It's worth noting that Green Vegetarian Cuisine also has another location in San Antonio.
MENU: Charita Bowl

Kale Miso Broth Ramen

Monk's Bowl

Eggplant Parmesan

Kalelupas

Shiitake Taco Plate

Quinoa Wrap

Falafel Wrap

Grilled Cheese

Classic Sandwich

Green Burger

Jalapeno Cheeseburger

Buffalo Ranch Chik-N Sandwich

Avocado Toast

Fried Pickles

Deluxe Nachos

Cauliflower Wings

Onion Rings & Potato Chips
Awesome place. Awesome food. Nice people. Good vibes. Good Vegan and vegetarian options available. We tried a Jalapeno cheese burger, quinoa burrito, spicy chicken sandwich and a falafel burrito. The staffs were taking care of Covid protocols all were wearing gloves and masks. And they have put instructions for patrons for wearing masks inside restaurant apart from eating time. There was parking available near the restaurant.
My boyfriend and I always go here when we visit SA. The nachos , buffalo cauliflower and chicken parmesan are our favorites! It's too bad the one in Houston closed after COVID, it was our favorite vegetarian restaurant.
The original vegetarian/vegan restaurant in San Antonio! New menu is great and vegan desserts are delicious. Vegan chicken sandwich is fantastic.
Appetizers
Garlicky Cucumbers $8.99
Fried Pickles $9.99
Deluxe Nachos $11.99
Handhelds & Burgers
Grilled Cheese Sandwich $11.99
Falafel Burrito $12.50
Big Nasty $13.99
Premium Sides $3.50 Each
Kids Entrees $6.99 (includes a Side and Drink)
Bowl
Monk's Bowl $10.99
Charita Bowl $12.99
Orange Tofu Bowl $13.50
House Sides $2 Each
Desserts
Brownies $4.50
Cookie $4.50
Slice of Cake $6.75
Cupcakes $4.50

San Antonio Express-News Reader's Choice Awards 2017, 2016, 2015 - Best Place to Get a Healthy Meal by News 4 in 2014
Mon-Thu: 8am - 9pm
Fri: 8am - 8pm
Sun: 9am - 9pm
Sat: Closed
Other Vegetarian Restaurants in San Antonio: