California Medical Weight Loss
California Medical Weight Loss is a reputable weight loss center with a solid foundation located in Los Angeles. California Medical Weight Loss is one of the Three Best Rated® Weight Loss Centers in Los Angeles, CA.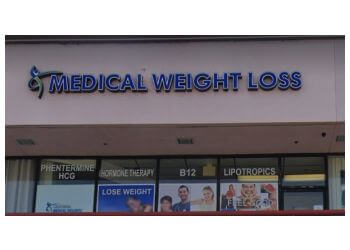 With 15 years of experience, they have successfully served 8567 satisfied clients. Their exceptional expertise is evidenced by 26 master certifications and a dedicated staff of 46 individuals who take pride in their work. Offering a safe and affordable weight loss program, California Medical Weight Loss ensures effective results. Their team of professionals possesses over eight years of experience in the field, allowing them to create personalized physician-supervised weight loss programs tailored to each patient's unique health situation. By analyzing individual needs, they guarantee the best approach for achieving weight loss goals. California Medical Weight Loss exclusively employs FDA-approved appetite suppressants, B12 injections, lipotropic injections, and fat-burning supplements, ensuring the highest standard of care. Additionally, they offer a special incentive where referring two individuals grants a one-week free session. Their ultimate aim is to provide comprehensive support throughout your weight loss journey, enabling you to achieve your goals quickly and safely. The highly trained and motivated team at California Medical Weight Loss is fully committed to assisting you in overcoming the challenges of weight loss.
Medical Weight Loss Program

HCG Diet

Fat Burning Supplements

Vitamin B12

Lipotropic Injections

Appetite Suppressants

Medications

Phentermine

Phendimetrazine

Diethylpropion

Exercise

Work-Outs & Proper Nutrition
Today is my first day here and it's amazing. It's worth 100 stars if I could give it. Freely answered all my questions. Hearing about the program learning my actual weight. And having the doctor say they can help me. I'm very excited to start this process. And Jennifer is amazing with answering all my questions and was so respectful and politeness overload. I will 100 percent recommend this company.
Great service, clean, great communication and professional highly recommend for you weight loss needs.
The staff are very nice and helpful. I've been coming for almost 1 year. This program has helped me to loose weight and also to maintain my weight. Very clean and affordable.
Discount
20% Off for your first vitamin IV Therapy treatment - 50% Off for weight loss program
View Coupon
Mon-Fri: 8:30am - 7pm
Sat: 8:30am - 4pm
Sun: Closed
Nearby Weight Loss Centers in Los Angeles: