Medslim Weight Loss
Medslim Weight Loss stands as a prominent weight loss center in Los Angeles, having aided numerous individuals in achieving their weight loss goals, enhancing their overall well-being, and attaining a healthier lifestyle. Medslim Weight Loss is one of the Three Best Rated® Weight Loss Centers in Los Angeles, CA.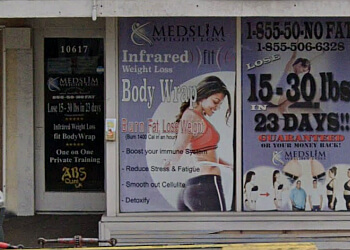 With their expert staff and amiable service, you can embark on a comprehensive journey to learn the art of healthy living that will benefit you throughout your life. The MedSlim Weight Loss team is committed to their promise, just as they have stood by thousands of other clients, ensuring your satisfaction. Specializing in remarkable results, they can assist you in losing 15-30 lbs in just 23 days, backed by a money-back guarantee. Moreover, their program encompasses personalized evaluations to rejuvenate your youthfulness and alleviate the symptoms associated with menopause, andropause, and aging. Additionally, they provide detailed meal plans to optimize your progress. As a valued customer, you can take advantage of a complimentary consultation offered by Medslim Weight Loss. Rest assured, their team of healthcare professionals and weight loss experts are dedicated to equipping you with the most up-to-date information on weight loss, nutrition, exercise, and lifestyle practices. Their ultimate aim is to empower you to make informed decisions and embrace healthy habits that will support your long-term success in losing weight.
Meal Plans

Mediterranean

Maintenance

Vegetarian

Paleo Diet

Infrared Bodywrap & Lifetime Weight Management
What a great weight loss program! I've done several and have had some success in the past but nothing like this. The weight came off so quickly, 20 lbs in 3 weeks, and I truly believe it's helped me reset my way of eating and where my body weight is comfortable. On top of that, Alain is quick to respond and encouraging through the whole program. Highly recommend.
This program really works. It's really simple and you end up feeling really good because you're eating clean and keep the weight off if you just stick with it. Alain is the best! He's very responsive, explained to everything and is a great coach.
Followed the program to the letter and lost 20 pounds in 23 days! Thank you Alain for the great, daily support and professionalism! I recommend this program to anyone who's serious about losing weight!
Mon-Thu: 8am – 9pm
Fri: 8am – 5pm
Sat: 9am – 3pm
Sun: 11am – 4:30pm
Nearby Weight Loss Centers in Los Angeles: