Hot Asana Yoga Studio
Hot Asana Yoga Studio stands as a reputable and established hub for yoga enthusiasts. Hot Asana Yoga Studio is one of the Three Best Rated® Yoga Studios in Wichita, KS.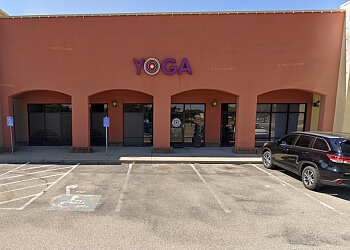 This invigorating studio takes a vibrant and flowing approach to yoga and its time-honored practices, infusing it with a sense of fun and energy. Their mission is to empower individuals through yoga, pushing them beyond their perceived limits and fostering growth of both the body and mind. In addition to their inspiring classes, Hot Asana Yoga Studio offers a selection of enjoyable and affordable yoga-related items, ensuring that you can bring a piece of the practice into your everyday life. Furthermore, they provide a comprehensive 200-hour Yoga Alliance Teacher Training program, allowing aspiring instructors to deepen their knowledge and share their passion with others. Conveniently situated in both East and West Wichita, the studio offers a range of classes at reasonable rates, making the practice accessible to a wide audience. Hot Asana Yoga Studio invites you to embark on a transformative journey of self-discovery and empowerment, embracing the joy and vitality that yoga brings.
Hot

Level1-2

Hot Express

Teacher Training

Strength

Handstand Workshop

Restorative & Fundamentals of Yoga
Best yoga studio and instructors ever! I've learned so much and could not survive without my weekly hot yoga fix! Thanks to my Sis for introducing me to Hot Asana!!
Love the west location , offering slow flow classes , also some power class on Saturday . You won't find any gym or yoga studio as good as HotAsana at the west of Wichita .
Great hot yoga sessions on the east and west side of Wichita! Very welcoming and helpful for beginners.
New Students Special 2 Weeks Unlimited Yoga $25
Single Classes Drop-In $13
30 Days Unlimited Yoga $72
5 Pack of Classes $60
10 Pack of Classes $120
20 Pack of Class $240
Nearby Yoga Studios in Wichita: