Great Wall Cuisine
Great Wall Cuisine, nestled in an unassuming strip mall, offers an authentic taste of Hong Kong-style dim sum on weekends and an extensive Chinese menu. Great Wall Cuisine is one of the Three Best Rated® Chinese Restaurants in Phoenix, AZ.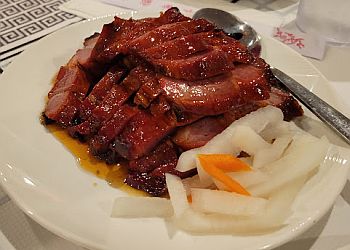 As the nearest establishment of its kind west of Grand Avenue, it serves as a go-to destination for genuine Chinese cuisine seekers. With a capacity to accommodate parties and banquets of up to 400 guests, Great Wall Cuisine provides a suitable venue for various gatherings. Situated in the Phoenix area, this Cantonese restaurant excels in offering both dim sum delicacies and traditional Cantonese dishes, prepared daily using high-quality ingredients. The courteous and attentive staff further enhance the dining experience. Great Wall Cuisine boasts an enticing selection of delectable appetizers and satisfying main dishes. All their dim sum items are meticulously handmade onsite. The beauty of dining at Great Wall Cuisine lies in the ability to explore and discover your preferences by ordering an assortment of dishes. While the portion sizes are not overwhelmingly large, ordering a variety of food can add up. If you appreciate the joys of dim sum or desire a taste of their regular menu, gathering a group of friends will enhance the overall experience.
Menu: Deep-Fried Crispy Tofu

Salt and Pepper Tofu

Sweet and Sour Pork Riblets

Crispy Pork Intestines

Clam with Basil Sauce

Honey Glazed Short Ribs with Black Pepper

Glass Noodles

Seafood and Veggie Fried Rice

Beef Slap

Chicken Chow Fun

Chilly Chili

Duck

Goat Belly Lo Mein

Veggie Spring Roll

Dim Sum

Shrimp Toast & Scallion Pancakes
Let's all agree the outside is very unassuming! We did dim sum lunch on a Friday. Was busy with take out orders, but the two carts that went around had most things you'd need. Order other items off the menu. I didn't ask for hot sauce, would have liked it on the table...perhaps we are not doing that anymore. Would recommend.
Celebrated my cousin's wedding reception last night. They did an outstanding job on everything. All the staff is so nice and very helpful. The food was amazing and all hot fresh and just incredible.. Highly suggest trying it out you won't be disappointed at all.
Food was great! Had 10 different dishes and each one was great. Went the day before Father's Day and they had a wedding there as well so we got free live music playing while we had dinner. Pecking duck is one of the best dishes there.
Appetizers:
Egg Rolls $5.00
Meat Dumplings $12.45
Soup:
Egg Flower Soup $3.70
Hot and Sour Soup $17.45
Hot Pot:
Buddish Vegetables $21.20
Mixed Seafood with Tofu $23.70
Sizzling Platter:
Satay Steak Platter $28.70
Short Ribs with Satay Sauce Platter $31.20
Mon-Fri: 11am - 9pm
Sat & Sun: 10am - 9pm
Nearby Chinese Restaurants in Phoenix: