Wong's Restaurant
Wong's restaurant in Phoenix, AZ, offers a delightful dining experience as well as convenient takeout options. Wong's Restaurant is one of the Three Best Rated® Chinese Restaurants in Phoenix, AZ.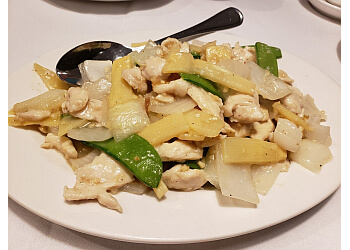 Renowned for its innovative twist on traditional dishes and unwavering commitment to utilizing only the freshest and highest quality ingredients, Wong's restaurant has become a beloved fixture in the Phoenix area. With exceptional Chinese cuisine, remarkable service, and a friendly staff, it consistently delivers an outstanding dining experience. The menu showcases familiar Chinese noodles and stir-fries, presented in an unpretentious setting with white tablecloths. The attentive and personable staff at Wong's restaurant goes above and beyond to make you feel like part of their family. Credit card payments are gladly accepted for added convenience. Indulge in the flavors of their signature garlic chicken dish, prepared with a delectable garlic sauce, white onions, snow peas, and bamboo shoots, allowing your taste buds to savor the delightful combination of ingredients.
Menu: Crispy Pork Intestines

Clam with Basil Sauce

Deep-Fried Crispy Tofu

Salt and Pepper Tofu

Sweet and Sour Pork Riblets

Honey Glazed Short Ribs with Black Pepper

Glass Noodles

Seafood

and Veggie Fried Rice

Beef Slap

Chicken Chow Fun

Chilly Chili

Duck

Goat Belly Lo Mein

Veggie Spring Roll

Dim Sum

Shrimp Toast & Scallion Pancakes
Absolutely delicious! Best Chinese we've had in PHX. We got the crab puffs (handmade) chicken and vegetables, Mongolian beef and sweet and sour shrimp. Shrimp were plump, juicy and crispy on the outside. Chicken with fresh vegetables was delicious. Mongolian beef had just the right amount of kick, super yummy.
Amazing, good food. Fast service. Super attentive staff. Crab puffs are good, orange chicken is awesome, there's a dumpling in the soup that was taste, large shrimp with white sauce was good, and the peach tea is refreshing as well.
Simply put the food is amazing! I ordered take out after a day at work, and I was completely satisfied. Orange chicken is perfectly cooked, beef and broccoli was scrumptious, and the nephew devoured the walnut shrimp! Best place around by far.
Appetizers:
Egg Rolls (2) $4.75
Crab Puffs (10) $8.25
Soups:
Egg Drop Soup $3.25+
Hot & Sour Soup $3.75+
Egg Foo Young:
Vegetable Egg Foo Young $11.75
Chicken Egg Foo Young $12.25
Mon: 11am - 3pm|
5pm - 9pm
Wed-Fri: 11am - 3pm|
4pm - 9pm
Sat & Sun: 12pm - 3pm|
4pm - 9pm
Tue: Closed
Nearby Chinese Restaurants in Phoenix: