At Your Bark and Call
At Your Bark and Call is a local dog-walking service provider that has been dedicated to serving the St. At Your Bark and Call is one of the Three Best Rated® Dog Walkers in St Petersburg, FL.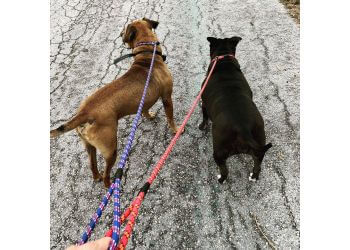 Petersburg. Elizabeth Bradford, the owner of At Your Bark and Call, brings extensive experience working with the local community. As a Certified Pet Sitter through the National Association of Professional Pet Sitters (NAPPS), Elizabeth and her team of certified pet sitters and dog walkers ensure the highest level of service. At Your Bark and Call understands the importance of trust and peace of mind when it comes to your furry friends. That's why they are bonded, insured, and have licensed pet sitters and dog walkers who meet professional standards. Their commitment to punctuality and attention to detail sets them apart. When your pet is in the care of At Your Bark and Call, they will receive the love and security they deserve, just like their human companions. The team goes above and beyond to provide personalized care tailored to your pet's specific needs. Choose At Your Bark and Call for a reliable and trustworthy dog-walking service that prioritizes your pet's happiness and well-being. With their experienced team and dedication to exceptional service, you can have peace of mind knowing that your furry companion is in good hands.
30 and 60 Minutes Dog Walking

House Sitting

Exercising

Food

Water

Feeding

Play

Overnight Stays

Pet Taxi & Concierge Services
I will never be able to express how amazing Elizabeth is. I have tried other dog walkers in the past, and none have been as reliable, trustworthy, and as good with my pups as she has. She's been walking my two hyper pups for the past 2-3 years and they adore her. If you're looking for a pet sitter/dog walker, she's the one!!
My cat has pretty bad separation anxiety and usually does not do well with strangers, so I'm always quite nervous about leaving him. Elizabeth and team have put my mind at ease! They give daily updates and followed instructions exactly. Really couldn't ask for more. No issues with their service and would definitely recommend. Quick to respond and overall great customer service.
Reliable, dependable and a pleasure to do business with. We have used Elizabeth since moving to Gulfport and could not be happier with her services.
Dog Walking/Exercising for 20-30 minutes: $25
Concierge Service: $25 per round trip
Pet/House Sitting: $50 per hour
Nearby Dog Walkers in St Petersburg: