Keke and Fetch Dog Walking and Cat Boarding
Keke and Fetch Dog Walking is an esteemed pet care business located in Phoenix, dedicated to upholding a longstanding family tradition. Keke and Fetch Dog Walking and Cat Boarding is one of the Three Best Rated® Dog Walkers in Phoenix, AZ.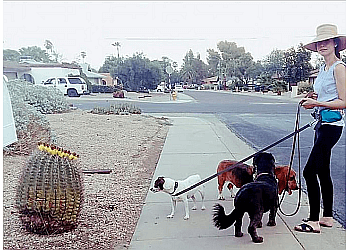 This reputable establishment offers professional and compassionate services, specializing in pet sitting and dog walking, exclusively catering to the devoted pet owners residing in Phoenix's urban neighborhoods. The proprietor of this enterprise is Sherri Elizabeth Curry, who initiated her pet sitting endeavors during her high school years in 2001. Initially, Sherri provided care for pets belonging to friends and neighbors, swiftly recognizing the demand for reliable assistance among the bustling and affectionate pet community in the city. Following her graduation, she generously contributed her time as a volunteer at local shelters, including the esteemed Friends for Life Rescue Animal Shelter. In 2010, driven by her unwavering and ever-expanding love for feline and canine care, Sherri wholeheartedly committed herself to pursuing her passion. Presently, she boasts an impressive 19-year tenure within the pet sitting and dog walking industry.
Dog Walking

Dog Boarding

In-Home Pet Sitting

30 Minute Walk-Daily

Feed Pets and Replace Water

Pet Sitting-Cats

Exotics-30 Minutes

Key Pick Up & Drop Off
Sherri has done some pet sitting for our company throughout the year. She is someone who follows through, is dedicated, has an attention to detail, and most importantly loves the furry kids that she cares for. You can see it in her actions.
Sherri of Keke and Fetch was a wonderful cat sitter. She is trustworthy, honest and dependable. Her response time, whenever I contacted her, was very fast. She cared for my two cats in my home for five days and nights. She emailed me after every visit. My cats were relaxed and happy when I returned. And my home was very clean. I highly recommend Sherri! I will definitely hire her again.
Sherri did AMAZING with our kitty!! We couldn't keep him for 5 months but she was happy to help us every month, for a good price. We now have him back and I feel like he has even improved on his behavior. He's not alone or stuck in a crate all day like those other pet hotels, he had his own little cat room with FRIENDS!!! Good experience all together Sherri was amazing thank you so much!
Daily Dog Walks:
30 Minute Walk $30 per Walk
Pet Sitting:
30 Minutes $30 per Visit
Key Pick up And Drop Off $15
On-Call Dog Walking $30
Dog Boarding and Cat Boarding:
Cat Boarding $15 a Day or $300 a Month
Dog Boarding $30 a Day
Nearby Dog Walkers in Phoenix: