All Kind Fencing
All Kind Fencing is a leading fencing company in Honolulu that specializes in installing vinyl, chain-link, and wooden fencing. All Kind Fencing is one of the Three Best Rated® Fencing Contractors in Honolulu, HI.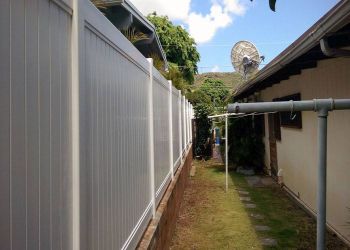 The company prides itself on providing personalized attention to each job and maintaining excellent communication with customers throughout the process. With a commitment to exceptional customer service, All Kind Fencing offers a variety of fencing options, including various colors and styles, as well as hand-built gates, garbage enclosures, and dog kennels. Their services are designed to add value to your property, and they utilize the latest cutting-edge technology tools to ensure efficient and speedy completion of all your service needs. Their fences are both functional and aesthetically pleasing, offering privacy and protection for your property. All Kind Fencing provides quotes to customers to ensure transparency and clarity throughout the project.
Fence: Wood

Chain Link

Deck

Farm

Railing

Semi-Privacy Fences

Fence Installation

Gate

Garbage Enclosure & Picket
If your fence is one of those fences that's falling apart or you're looking into building a fence contact them they will be happy to give you advice or a quote or both.
Mon-Fri: 8am - 6pm
Sat : 8am - 4pm
Sun: Closed
Nearby Fencing Contractors in Honolulu: