Pharaoh's Hairum Salon and Spa
Pharaoh's Hairum Salon and Spa stands out as a premier hair salon in Rochester, NY, renowned for it's exceptional customer service, highly-trained staff, and commitment to providing a healthy environment for both staff and clients. Pharaoh's Hairum Salon and Spa is one of the Three Best Rated® Hair Salons in Rochester, NY.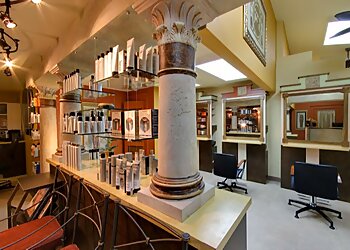 At Pharaoh's, they prioritize customization and tailor a plan specifically to meet your individual needs and desired results. They go the extra mile to ensure that the products used in their salons and spas are free from harmful chemicals commonly found in beauty products, opting for organic and natural ingredients instead. Whatever your hair care desires or needs may be, their skilled team will provide a complimentary initial consultation and carefully consider your preferences and unique features to create a wide range of styles that complement your individual beauty. Gift certificates are available for both hair care and spa needs, making Pharaoh's Hairum Salon and Spa a wonderful option for thoughtful gifts.
Haircutting

Styling

Up-Dos

Perms

Spiral

Coloring

Flat-Iron

Highlights

Balayage

Ombre

Color Melting

Keratin

Conditioning

Corrective Color

Perm

Bridal

Manicures

Pedicures

Make-Up Applications

Body Treatments

Bio-Mat Treatment

Ionic Foot Detox Bath Treatment

Facial & Body Waxing
Absolutely recommend this salon. I asked for a specific haircut and Annie nailed it!!! I love my cut and couldn't be happier!!! I also had the pleasure of having my brows done by Yogi. She is n absolute gem. I also got some samples for some skin concerns and ended up buying the bottle. You need to see her for all your skin concerns and facials!! I finally found my all in one place for all my needs. Thank you both.
The staff at Pharaoh's Hairum are a perfect mix of kind, professional, friendly, and skilled. I had an Anti-Stress back treatment after being referred to them by a non-profit with whom they have partnered with for a long time. Erin, at the Henrietta location, was knowledgeable and relatable, and I left the building feeling very relaxed. I will definitely be returning.
Olivia always does my hair and she has done a great job every time. The gals at the reception desk are always very friendly and helpful. My sister recommended Pharoah's Hairum when we first moved here last year and I am now a loyal customer.
HAIR DESIGNING
Design Team Haircuts $36–81
Thick/Long Hair Cut (45 Min) $48–93
Apprentice Design Cut $31
Clipper Hair Cut $26–55
Apprentice Clipper Hair Cut $21
Children's Haircuts (1 – 15 years) $30
Apprentice Children's Haircuts (1 – 15 years) $18
Style $36 & up
Special Event Styling $86 & up
COLOUR
Colour $60 & up
Facial Highlight $35
Partial Foil or Cap Highlights $80 & up
Full Foil Highlight $100 per hour
Speciality Color, Balayage, Color Melt
Design team – $100 per hour
Trainer – $120 per hour
Toner/Gloss/Glaze $30 & up
PERMANENT TEXTURIZING
Full $80 & up
Partial $65 & up
Spiral $145 & up
Long Hair $125 & up

Salon Today 200 - Rochester Choice Salon & Spa
Mon: 9am - 6pm
Tue-Thu: 9am - 9pm
Fri: 9am - 5:30pm
Sat: 8:30am - 4:30pm
Sun: Closed
Other Hair Salons in Rochester: