Kama'aina Handyman
Kama'aina Handyman is serving the greater Honolulu region. Kama'aina Handyman is one of the Three Best Rated® Handyman in Honolulu, HI.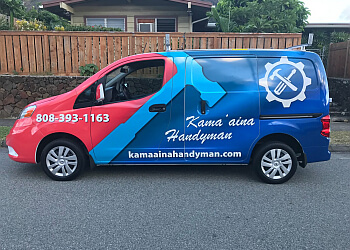 Their company was founded upon the principles of prompt service and quality repairs. Their service technicians specialize in resolving any issues and problems rapidly and professionally. They pride themselves on determining what their clients need done and doing exactly that to the highest standard. Their goal is to make your home a worry-free environment. They are committed to providing professional service to their clients. They work hand-in-hand with their clients to ensure a pleasant and well-informed experience. The company is uniquely established to do all your minor repairs quickly. They regularly handle any household or home maintenance issues, from deck refinishing to water heater servicing to power washing. They have the experience to help you transform your house into a home, and they can help you make those dreams a reality. They guarantee their labor for one year. They offer free estimates.
Remodelling

New Construction

Decking

Door Installation

Home Maintenance

Flooring

Electrical

Plumbing

Rental Property

Household Repairs & Minor Remodels
Jovan showed up on time, was very professional and friendly. He took care of all the tasks expeditiously and made sure I was happy with each before and after he did so. Will definitely call again for any handyman needs.
Very satisfied with the work done by Kama'aina Handyman. Jovan and Tom were prompt, ready and great all around! Very easy to work with and would definitely utilize their services again.
Help breakdown two cabinets and take to site of pick up in designated area of condo. Bulky item scheduled for pick up tomorrow so essential job done today. We appreciate task completed.
Mon-Thu: 8am - 5pm
Sat & Sun: 9am - 4pm
Fri: Closed
Nearby Handyman in Honolulu: