Christina Granados Therapy
Christina Granados Therapy is a well-known Hypnotherapy in Wichita, KS. Christina Granados Therapy is one of the Three Best Rated® Hypnotherapy in Wichita, KS.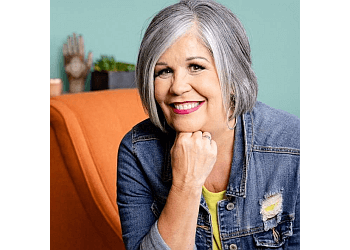 Christina Granados, a Licensed Clinical Social Worker, EMDR Trained Therapist, and Advanced Clinical Hypnotherapist, leads Christina Granados Therapy. With extensive training in trauma and PTSD, Christina specializes in helping individuals overcome these challenges. Additionally, she works with adults dealing with grief and loss, mood and anxiety disorders, and phobias. Christina Granados Therapy's counseling approach is collaborative, relational, and strength-based, providing a supportive and comforting environment. The therapy sessions are tailored to meet each individual's unique needs and goals. Christina utilizes various therapeutic techniques, including Eye Movement Desensitization and Reprocessing (EMDR), traditional talk therapy, hypnotherapy, and online video therapy. To accommodate clients' schedules, evening and weekend sessions are available. Christina Granados Therapy primarily serves clients in Kansas, ensuring accessibility for the local community. Under the care of Christina Granados, clients can expect a compassionate and personalized therapeutic experience that addresses their specific concerns and helps them move toward healing and personal growth.
Addictions

Aging and Geriatric Issues

Anger and Stress Management

Blended Family

Childhood Trauma

Anxiety Disorders

Depression / Mood Disorders

Divorce and Adjustment

Grief and Loss

Life Coach

Low Self-Esteem

Phobias

Sexual Abuse

Women's Issues

Cognitive-Behavioral Therapy & Mindfulness-Based Interventions
She is a very gifted therapist! She is willing to explore the depths of clients psychology from a non judgemental place.
Christina helped me inn a very hard time in my life. She is wonderful!
So very happy for you, you will do great I am sure!
Seeing Christina has been my best decision ever!! She comes at you from such a non-judgmental place and fosters a calm environment where you can feel comfortable addressing your trauma. No matter what form of therapy you're doing, you won't have to worry about being out of control while in her office - she lets you drive your own healing process and never pushes for details that would be hard to discuss. She is incredibly knowledgable and good at what she does. I didn't know I could feel as good as her help has made me feel - 1000/10 recommend!!!
Mon-Thu: 10am - 4pm
Fri-Sun: Closed
Nearby Hypnotherapy in Wichita: