Merlin Centre for Hypnosis & Enlightenment
The Merlin Centre for Hypnosis & Enlightenment, under the guidance of Robert Michael Merlin, offers professional hypnotherapy services. Merlin Centre for Hypnosis & Enlightenment is one of the Three Best Rated® Hypnotherapy in Greensboro, NC.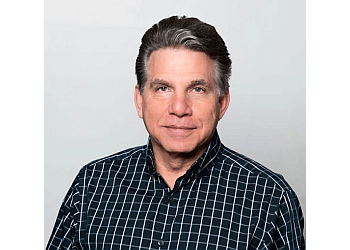 Robert is a board-certified master hypnotist with eleven years of experience in the field. He is a registered member of esteemed organizations such as the National Guild of Hypnotists and the National Association of Transpersonal Hypnotherapists. Specializing in various areas, Robert provides specialized hypnotherapy sessions for permanent smoking cessation, mental gastric band techniques, neuro-linguistic programming, self-control enhancement, and golf improvement. With a clinical transpersonal hypnosis approach, Robert aims to assist individuals by utilizing his extensive knowledge and available techniques. Over the years, he has successfully helped thousands of clients achieve their desired goals through hypnotherapy. The Centre was established to provide a holistic and complementary approach to individuals facing everyday challenges. They aim to address issues by considering all aspects of a person's well-being. The Centre operates on the principle that the path to healing and personal growth lies within each individual, waiting to be discovered and embraced.
Complete Relaxation

Stop Smoking Forever

Weight Reduction

Regain Self-Control

Attract Healthier Relationships

Focus

Concentrate/Remember

Enjoy Public Speaking

Sports Enhancement

Build Optimism

Self Improvement

Fitness Motivation

Hypno-Birthing (Pain-Free Child Birth)

Have a Positive Mental Attitude

Body Image

Manage Situational Stress

Confidence Building

Sleep

Enhancing Creativity

Memory/Comprehension

Finding Lost Objects

Preparing for a Change/Surgery

Attracting Abundance

Study Habits

Sales Performance

Improve Determine/Set Goals

Self Esteem/Sabotage

Nail Biting

Procrastination

Enhance Personal Skills/Organization and Management

Rapid Healing

Healing Imagery

Ease & Control Pain
Thee choice for effective hypnosis. The setting is comfortable, calming, and private. Mr. Merlin is a highly experienced professional, excellent in his skill and technique, effectively helping me to reach my goals in weight wellness. I've dropped ten pounds in the first four weeks of the Tooley mental lap-band program without struggling to stick to a diet or exercise routine. I would highly recommend the Merlin Centre for Hypnosis & Enlightenment to anyone wanting to improve their health and wellness, physical and mental.
I can honestly say I would not be who I am today without Robert Merlin. He tells you what you need to hear, challenges you to be the best version of yourself, and truly cares about helping you on your journey. He has real purpose and I would 10/10 recommend! Grateful for him every day.
I have had three sessions. They've been very helpful! Two sessions were Between Lives or Past Life Regression. I appreciate that the sessions are recorded, so I can listen to them as often as needed. I value having this information and how it can benefit my life now. Several years prior to any of my sessions, I tried conventional medicine to resolve health issues. It was a very temporary fix, like putting a bandaid on a massive wound. The problems grew back within a few short years of medications and surgery even. My third session was to deal with stress and how I felt it was impacting my mindset and body. I'm generally rather laid back and joful but was growing increasingly frustrated dealing with the "adults" I worked with daily. My body was creating tumors and other ailments again to let me know some form of change was needed. Towards the end of the session, I noticed one tumor began shrinking. Within hours after the session, I noticed a second tumor began shrinking also. Since then, the smallest tumor has completely left my body. Also, I was able to start recalling pieces of dreams again. Unfortunately this session was not in office (as I moved half way across the U. S. about a year or so before this session), so I can't listen to it as needed. I am very interested in more sessions and would even like to take the training classes offered to help others along their paths, as well. Merlin was professional and courteous. He explained the process was and was interesting to talk with. I highly recommend using the Merlin Centre to help with you needs!
Mon-Wed: 10am - 8pm
Thu: 10am - 6pm
Fri: 10am - 5:30pm
Sat & Sun: Closed
Nearby Hypnotherapy in Greensboro: