The Old Spaghetti Factory
The Old Spaghetti Factory, a cherished Italian restaurant, is nestled in a historic building at the heart of downtown Phoenix. The Old Spaghetti Factory is one of the Three Best Rated® Italian Restaurants in Phoenix, AZ.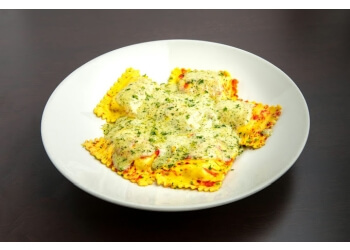 Stepping inside, guests are greeted by the enchanting ambiance created by antique lighting, intricate stained glass displays, spacious colorful booths, and inviting tables. The Old Spaghetti Factory's warm and welcoming atmosphere sets the stage for an unforgettable dining experience. Indulge in their delightful menu, which offers a wide array of choices including mouthwatering pasta dishes, delectable appetizers, refreshing salads, flavorful sides, succulent chicken preparations, and irresistible desserts. For those with dietary restrictions, a Gluten Friendly menu is available to cater to their needs. The restaurant's commitment to family-friendly dining is evident in their thoughtfully crafted kid's menu, which offers excellent meal options for young diners. To complete your dining experience, be sure to explore their selection of refreshing beverages. Beyond its exceptional dine-in experience, The Old Spaghetti Factory also offers a catering service that promises to make your celebrations perfect and stress-free. If you're seeking the ideal space to host your next banquet or event, The Old Spaghetti Factory is the perfect choice. Their commitment to providing delicious food at an unbeatable price ensures that your event will be a memorable one. For loyal patrons, The Old Spaghetti Factory extends the opportunity to join their Factory Family Club. As a member, you'll receive exclusive birthday rewards, insider news, half-birthday rewards, and special offers, making your visits even more rewarding. In summary, The Old Spaghetti Factory is a beloved family-owned Italian eatery housed in a historic building in downtown Phoenix. Its captivating ambiance, adorned with antique lighting and stained glass displays, invites guests to relax and savor their delectable menu offerings.
MENU: PASTA: Fettuccine Alfredo

Spinach and Ravioli

Tortellini

Marinara Sauce

Mushroom Sauce

Pot Pouri

Mac and Cheese

Meat Sauce

Mizithra Cheese and Browned Butter

Parmigiana

Marsala

Breast Fettuccine

Fried Calamari and Zucchini

Tiramisu

New York Cheesecake & Chocolate Mousse Cake
This place is incredible. The food is delicious, the drinks are tasty, the decor is unlike any other. We were blown away and will come back. Only comment is our server was extremely quick, pushingly rushing, and messed up several of our orders. I'm still giving five stars because I think it was just that server, not sure what the rush was though because there were plenty of empty tables and no wait.
We had a wonderful dinner with amazing service from Lilly!! She was packed with tables but still seem to keep her cool, smile and worked her butt off to keep up. Food was delicious (they even have gluten-free pasta!!!!), atmosphere was very cool and the bill wasn't outrageous for a party if 5 so that was the perfect ending to a great experience.
I haven't been here for over 20+ years. Yesterday we were in the area and went in for my birthday. Great choice, it was so delicious and so filling. A great way to spend time with friends and have a fabulous meal.
Appetizers Starts from $9.90
Entree Salads Starts from $20.10
Founder's Favorites Starts from $23.70
Pasta Classics Starts from $18.90
Savory Chicken Starts from $24.90
Sides Starts from $2.40
Gluten Friendly Starts from $21.30
Desserts Starts from $4.20
Beverages Starts from $3.60
Lunch:
Mon-Sun: 11am - 4pm
Dinner:
Sun-Thu: 4pm - 9:30pm
Fri & Sat: 4pm-10pm
Nearby Italian Restaurants in Phoenix: