Diamonds Direct San Antonio
Diamonds Direct San Antonio is a renowned jewelry store in San Antonio that is widely recognized for its exceptional range of products. Diamonds Direct San Antonio is one of the Three Best Rated® Jewelry in San Antonio, TX.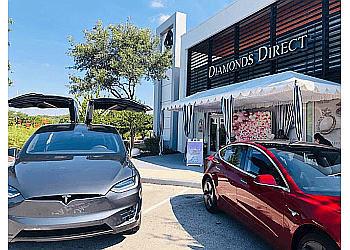 The store offers an unparalleled assortment of engagement rings, loose diamonds, wedding bands, gemstone jewelry, and fine jewelry, among others. One of Diamonds Direct's primary focuses is acquiring high-quality diamonds at the right value. With more than 50 carried designers and 3000 engagement ring mountings per shop, the store ensures a diverse selection for customers. In addition to their commitment to providing exquisite jewelry, Diamonds Direct also values establishing long-term relationships with nonprofit partners. They work closely with these organizations to create mutual benefits. Customers can expect a risk-free environment when shopping at Diamonds Direct due to their extensive selection, educational resources, warranties, and guarantees. They offer unrivaled complimentary services, including complimentary jewelry maintenance, complimentary cleaning, complimentary sizing, complimentary appraisal for insurance purposes, and a complimentary lifetime upgrade on engagement. The store always prioritizes customer satisfaction and remains flexible to accommodate various budgets, consistently surpassing expectations with their excellent collections. Diamonds Direct offers a 30-day money-back guarantee, lifetime warranty, special financing options, and complimentary cleaning and maintenance services. Additionally, they provide free delivery for added convenience.
Engagement and Wedding Rings

White Gold

Diamond

and Gemstone Collections

Channel and Fashion Rings

Bands

Pave

Earrings

Pendant

Necklaces

Bracelet

Sapphire

Custom Design

Studs

Fine Jewelry & Watches
My Fiancé wanted to upgrade my ring and let me start off by saying this ring is GORGEOUS!! The sparkle is to die for! Dee Dee and Allison Ramos helped us find the perfect engagement ring. They sure did master it! They both were extremely kind and patient with me. I had no idea what I wanted. They showed me different types of ring shapes, bands and explained to me the four C's. We found the perfect ring and scored an amazing deal. Totally recommend Dee Dee & Allison!
My now fiancé and I had a wonderful experience! We were assisted by Allison Ramos, and she was very nice and accommodating. She helped explain the whole process to us and gave us an excellent selection to look at. When I went back on my own, she had the perfect diamond for me. When I expressed that I was not a huge fan of he setting (the band of the ring), she told me it wasn't a problem! She showed me a Diamonds Direct band that was better and cheaper than the one I had seen. It was perfect! She got it all squared away for me in a matter of days, and I was able to propose shortly after. Really appreciated all of the DD staff for their welcoming demeanor and high quality selection of diamonds.
Rick Soundress and the team at Diamonds Direct were wonderful to work with. Rick did an amazing job working with us to select the perfect engagement ring. He had emeralds shipped in and helped us select the perfect stone. We were able to look at a large variety of settings and then make the perfect match for our stone. He was always professional and provided excellent communication. The stone was set into the setting quickly and the ring is beautiful. We have already gone back to purchase other jewelry from Rick because of the excellent experience.
Mon-Fri: 10am - 7pm
Sat: 10am - 6pm
Sun: Closed
Nearby Jewelry in San Antonio: