Hoanh Le, DDS - KIDSPACE PEDIATRIC DENTISTRY
Hoanh Le, DDS - KIDSPACE PEDIATRIC DENTISTRY is one of the Three Best Rated® Kids Dentists in Wichita, KS.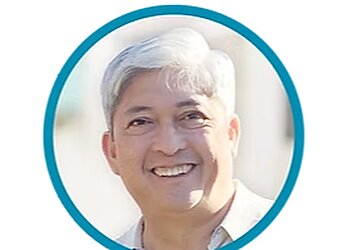 Dr. Hoanh Le, a dedicated Pediatric dentist practitioner, has been providing exceptional dental care since 1988. He obtained his degree from the University of Arkansas and completed his Doctor of Dental Surgery at the University of Missouri-Kansas City. Dr. Hoanh Le furthered his training with a residency in pediatric dentistry at Nova Southeastern University in Ft. Lauderdale, Florida, and Miami Children's Hospital. He has also pursued advanced studies and specialized training in dentistry for children, adolescents, and special needs patients. Dr. Hoanh Le is deeply committed to delivering the highest quality pediatric dental care, and he is supported by a team that shares his dedication to providing compassionate and personalized care to each patient. Dr. Hoanh Le currently practices at Kidspace Pediatric Dentistry, where the focus is on creating an atmosphere that fosters trust and excitement for children visiting the dentist. Their approach includes customized prevention plans to minimize the need for extensive dental rehabilitation. At Kidspace Pediatric Dentistry, the goal is to provide dental care that is tailored to each child's needs, while also ensuring a positive and enjoyable experience.
Sedation/General Anesthesia

Exams and Cleanings

Extractions

Sealants

Space Maintainers

Painful Toothache

Infant Toddler Exam

Composite Fillings

Pulpotomies

Lost Filling or Crown

Crowns

Traumatic Injury

Emergencies

Knocked Out an Adult & Chipped or Broke a Tooth
I first went to this dentist office with my special needs daughter about 9 years ago. I was overwhelmed buy the friendliness and the professionalism. The office is very inviting and Dr. Le was (and is) just wonderful. They give clear and concise methods to help my kids teeth to stay healthy. He and the staff have constantly met my children's needs and as a parent I have never felt judged when my kids teeth were less than spectacular. Another plus, the patience of the staff is almost saint like. They have become the dentist too all of my children. I'll honestly be sad when my kids are to old to be seen there. Give this office a try I believe you won't regret it.
Dr. Le is absolutely wonderful. He strives to insure that parent's and kids are comfortable and confident with his work. My children have no apprehension or fear when it comes to him. He is a great dentist; professional and charming. My children love him! Thank you and your awesome staff, Dr. Le.
Dr.Le is A Wonderful Dentist. My daughter was always afraid to go to the Dentist until we Started seeing Dr.Le or Dr.Sill. Kidsplace Pediatric Dentistry. #1
Blue Cross Blue Shield of Kansas plans, Delta Dental PPO, Cigna, Aetna, Unicare and KanCare (Aetna Better Health of Kansas, Sunflower/Envolve & UnitedHealthcare)
Mon-Thu: 7:30am - 5:30pm
Fri-Sun: Closed
Nearby Kids Dentists in Wichita: