Michael F. Iseman, DDS - WICHITA PEDIATRIC DENTISTRY
Michael F. Iseman, DDS - WICHITA PEDIATRIC DENTISTRY is one of the Three Best Rated® Kids Dentists in Wichita, KS.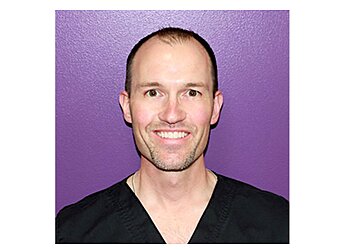 Dr. Michael F. Iseman is an esteemed Pediatric Dentist who holds board certification and practices in Wichita. He obtained his undergraduate degree from Wichita State University and went on to complete his Doctorate of Dental Surgery at the University of Nebraska Medical Center in Lincoln. Dr. Iseman furthered his training by earning a pediatric residency certificate from the University of Nebraska Medical Center in Omaha. In order to remain up-to-date with the latest practices in pediatric dentistry, Dr. Michael F. Iseman actively pursues continuing education opportunities. He is a proud member of the American Academy of Pediatric Dentistry, the Southwest Society of Pediatric Dentistry, and the American Dental Association. Dr. Michael F. Iseman currently practices at Wichita Pediatric Dentistry, a highly dedicated team of pediatric dental professionals who are passionate about ensuring excellent oral health for their patients through education and specialized care. They offer comprehensive treatment options for children and teenagers, including protective sealants, cleanings, digital radiography, and intraoral photographs. Their commitment to providing top-quality care is reflected in their approach and services at Wichita Pediatric Dentistry.
Pediatric Dentistry and Dental Emergencies

Exams and Cleanings

Mouthguards

Dental Sealants

Teeth Grinding

Gum Disease

IV Sedation

Preventive Care

Fluoride Treatment

Digital X-Rays

Nitrous Oxide

Fillings & Thumb Sucking
My 6 week old son was cheek, lip, and tongue tied. Dr. Iseman and his assistant answered all of my questions and were very informative about the procedure. Dr. Iseman demonstrated the mouth stretches needed for aftercare and guided me through how to do them. Dr. Iseman even called me from his personal cell phone later that day after the procedure to check on my son's progress and continued to offer tips to make our transition easier. 10/10 would recommend taking your kids to Wichita Pediatric Dentistry!
We are so Thankful for Dr. Mike and everyone at his office! The entire process start to finish was so smooth! Everyone had a smile from check in to check out! No tears from my 2 year old at his first dentist visit and that was the best part! Alisha was an amazing team player who helped keep my son focused and engaged! Nobody else we will trust from now on!!! Thank you Dr Mike and all the ladies at Wichita Pediatric Dentistry!!!!
Dr. Iseman and his crew are definitely worth 5 stars. My daughter is 13 months and she just had her lip tie cut. Dr. Iseman himself called at 8:30 at night to check up on her. They are very nice and know how to deal with kids at every age. As a nurse, i feel comfortable with them treating my daughter!
Accepts Most Major Insurance Plans
Mon-Wed: 7:30am - 4pm
Thu: 7:30am - 12pm
Fri-Sun: Closed
Nearby Kids Dentists in Wichita: