California State Capitol Museum
California State Capitol Museum serves as the seat of the Government of California. California State Capitol Museum is one of the Three Best Rated® Landmarks in Sacramento, CA.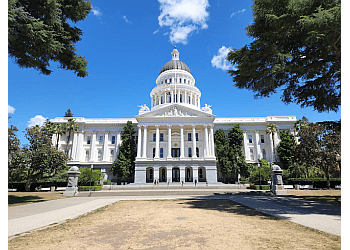 Established in 1869, this magnificent limestone building reflects the architectural style of the 19th century and is modeled after the headquarters of the California Legislature. The Capitol houses the state's legislative activities within its walls and features a public museum and a surrounding park. Visitors to the California State Capitol are greeted with a captivating blend of changing museum displays and historical rooms that offer a glimpse into the rich political history of California. The building showcases a harmonious fusion of architectural styles, providing a visual treat for those exploring the Capitol virtually from anywhere in the world. To enhance the experience, the museum offers free tours for groups of nine or fewer individuals. A visit to the California State Capitol is an informative and enriching experience and a delightful journey through the heart of the state's governance. Whether guided or self-guided, the tour offers an opportunity to appreciate the history, architecture, and political heritage that define this iconic landmark.
Flag Collection

Statues

Legislation

Architecture

Special Exhibits

Collections

Memorials

Capitol Family Art

Architectural Virtual Tour

Gift Shop & Historic Rooms
I really liked that there is a transparency and openness when you come to a Capitol. First, check what are the operating hours. I took a tour at about 12pm. The guide was a very friendly and emotional person. He told amazing facts about California and capitol itself. Just keep in mind many parking lots in downtown are not free.
The building is amazing, beautiful, breathtaking! I suggest going on a tour. The guides will provide alot of useful history information of the building. After the tour, your free to walkaround on your own. The architecture of the building is just beautiful, has alot of character. I could stare at it all day. We went to see it both days that we were in Sacramento. There is a gift shop in basement, a restaraunt, restrooms. Wear comfortable shoes.
The state capitol building was the perfect place to shoot my brand new rainbow flying dress! Such a beautiful day!
Mon-Fri: 9am - 5pm
Sat & Sun: Closed
Nearby Landmarks in Sacramento: