Fort Caroline National Memorial
Fort Caroline National Memorial is a testament to the short-lived French colonial presence in sixteenth-century Florida. Fort Caroline National Memorial is one of the Three Best Rated® Landmarks in Jacksonville, FL.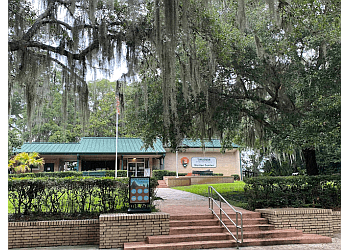 This site holds over 6,000 years of historical significance, offering a captivating journey through stories of exploration, survival, territorial conflicts, religious disputes, and the initial encounters between American Indians and Europeans. Beyond its historical allure, Fort Caroline National Memorial also boasts the beauty of protected natural ecosystems. For added convenience, the memorial provides essential amenities such as restrooms and picnic tables, ensuring a comfortable visit. It's worth noting that entry to Fort Caroline National Memorial is free, allowing everyone to access and appreciate the rich tapestry of stories and natural wonders this historical site offers. Step into the past and uncover the remarkable tales that shaped Fort Caroline National Memorial. From the struggles and triumphs of early explorers to the enduring impact of cultural exchange, this site offers a glimpse into a pivotal era in Florida's history, all within the embrace of its serene natural surroundings.
Ribault Monument

Nature Walks

Kid's Events

Territorial Battles

History Tours

Theodore Roosevelt Area

Junior Ranger Program

National Park and Historical Buildings

Spanish Pond & Religious Sites
Thank you to the National Park Service for offering this nice trail at Fort Caroline National Memorial. I enjoyed hiking on the trails and touring the museum at the visitor center. There is an easy 1 mile nature trail that loops around, and a three mile moderate hiking trail near the Spanish Pond trail head. Enjoy your time here, I look forward to hiking the trails again soon.
Great group of Employees. Helpful, kind, full of information. Pleasant walking trail to Fort remains. Neat Oven to make whatever you want. Met a lovely family and children on a Fort trip along coast. We shared ideas.
I learned a new piece of history after visiting, thank you. Beautiful clean grounds, replica fort and village set up. A few docks to spot dolphins or manatees if your lucky.
Wed-Sat: 9am - 5pm
Mon & Tue: Closed
Nearby Landmarks in Jacksonville: