Old Sacramento Waterfront District
Old Sacramento Waterfront District offers a delightful blend of shopping, dining, festivals, and attractions. Old Sacramento Waterfront District is one of the Three Best Rated® Landmarks in Sacramento, CA.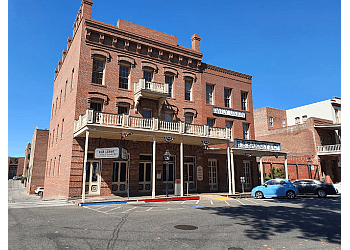 With a staggering 125 establishments to explore, visitors can immerse themselves in diverse experiences. Situated along the scenic Sacramento River, this unique 28-acre national historical site district and state landmark park encompass a significant portion of the Old Sacramento Historic District. A day spent in the Old Sacramento Waterfront District is a journey through time, allowing tourists to appreciate the past while indulging in delicious cuisine and perusing a wide array of retail stores. The district boasts an impressive selection of locally owned shops, each showcasing distinctive gifts and one-of-a-kind collectibles. Visitors are treated to an exceptional shopping experience, surrounded by exclusive and unique offerings. As visitors explore the Old Sacramento Waterfront District, they are enveloped in the charm of its rich history. The district's ambiance and remarkable selection of shops and dining establishments create a memorable experience that celebrates both the past and the present.
Antiques

Art

Rides

Shop

Events

Entertainment Spots

Specialty Retail

Historical Buildings

Amenities

Jewelry

Games

Food and Home

Apparel and Accessories

Gifts

Tours

Theatres

Toys & Collectibles
Great place to go if in Sacramento. There is a little something for everyone. I love the feel of the old wWhat a Walk into the past. The buildings are in the same condition as they were in the past. Historically accurate and maintained. Such a pleasure walking thru town and sharing what little I do know with real life supporting evidence.est. The architect of all the buildings is amazing. Check out the costume shop, it will blow u away they have ever the theme of costume and the Quality of there stuff is top notch. And u won't find better prices for what u get. Perfect place if u are doing a theme party. Check out the paddle wheel ship on the river, very cool inside, food is good, the view of the Sacramento River is awesome.
The old building are nice to look at. Alot of cute shops and places to eat down here. A great place to take a walk along the water. Ride the Ferris wheel too. We enjoyed some ice cream and candy while visiting.
Had a peaceful rest staying night at the Delta King would recommend this beautiful place to anyone who needs a peaceful rest after a long day.
Nearby Landmarks in Sacramento: