Brett Begnoche, DDS - WICHITA FAMILY DENTAL
Brett Begnoche, DDS - WICHITA FAMILY DENTAL is one of the Three Best Rated® Dentists in Wichita, KS.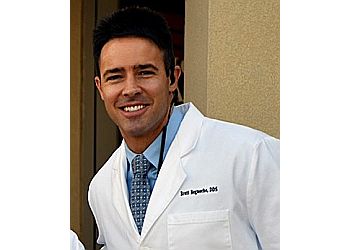 Dr. Brett Begnoche is one of the leading Dentists based in Wichita, KS. He obtained his bachelor's degree in biology from Newman University and later earned his Doctorate in Dental Surgery. Furthermore, he completed a one-year general practice residency at Truman Lakewood Hospital in Lee's Summit, Missouri. Dr. Begnoche is an esteemed member of both the American Dental Association and The Wichita Dental Society. He practices dentistry at Wichita Family Dental. This practice is the ultimate destination for comprehensive dental care, offering a wide range of services all in one place. By utilizing advanced, state-of-the-art dental technology, the clinic prioritizes the well-being and health of its patients and their families. Additionally, they have their very own in-house dental laboratory, enabling them to provide same-day restorations and denture adjustments.
Dental Exams and Check-Ups

Fillings

Crowns

Veneers

Sealants

Invisalign

Preventive Care

Bridges

Same Day Crowns

Dentures

Partials

Root Canals

Wisdom Teeth

Tooth Extractions

Cosmetic

Pediatric and Sedation Dentistry

Emergency Dental Care

Teeth Whitening

Gum Recontouring & Tooth-Colored Filling
I came in last week and had three fillings done all at once. Two were on the top and one was on the bottom. Dr. Begnoche did them and this is the first time I did not have to revisit an office and get my fillings adjusted because my bite was off after leaving. Normally I was having to return to my previous office 2-3 times after getting fillings to get my bite right. It was great to get everything taken care of in one visit! Angela was my assistant and made sure I was comfortable the whole time. Great experience from start to finish. Would for sure recommend and I will be returning!
I came in with a tooth that needed help today. Not only did they get me in, but were able to do a root canal and crown in the same appointment. I've heard horrible things about root canals from others, but Dr. B and Jess made it so smooth, I almost fell asleep. No joke! Great dentist office. Highly recommend.
Felt like they care as always. I have been going there for 16 years. I feel the same now as I did when I walked in the doors for the first time 16 yrs ago. Ashlee the hygienist was awesome. And as always Dr. B Is the best there is.
Mon-Fri: 7am - 5:30pm
Sat & Sun: Closed
Nearby Dentists in Wichita: