Don Nguyen, DMD, FICOI, FAAIP - Affordable Dentures & Implants
Don Nguyen, DMD, FICOI, FAAIP - Affordable Dentures & Implants is one of the Three Best Rated® Dentists in Wichita, KS.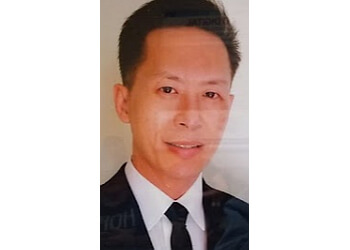 Dr. Don Nguyen, a highly esteemed dentist in Wichita, Kansas, is renowned for his expertise in dentures and dental implants. Together with his compassionate staff, he offers a comprehensive range of solutions in this field. Dr. Nguyen remains up-to-date with the latest advancements in technology, ensuring patient comfort and providing a broad spectrum of dental services. He practices at Affordable Dentures & Implants, which features an on-site dental laboratory to ensure secure and efficient services. The dedicated dental team at the clinic strives to accommodate your needs within your means and individual circumstances. They tailor treatment plans to your specific requirements and deliver services in a safe, compassionate, and non-judgmental environment. These personalized solutions are designed not only to repair damaged smiles but also to ensure their longevity throughout your lifetime.
Dental Extractions

Implants

Dentures

Bad Breath

Sores Spots in Mouth

Sore Jaw

Dental Bridges

Fillings

Veneers

Invisalign

Family Dentistry & Teeth Whitening
I was just seen yesterday, I have had dental problems and have a deficiency that causes my teeth to break, Dr was so kind and respectful, Monday I will be having 23 teeth surgically removed and a temp denture until the healing is done then my regular ones. I will update after the procedure* Day Of procedure, everyone has been so kind to me as I am visually shaking, all employees took the time to assist with calming me down, Dr was absolutely professional and so kind, and gentle I will never seen another dentist as long as Dr Nguyen is available. 10plus stars. * It has been almost five months since my initial appointment and I have nothing but great things to say, every one from the front desk to the back are respectful and kind, thank you for everything!!!
The wait time was long but the experience worth it. I have severe anxiety of dentist but the staff was amazing. DR. Nguyen was very patient, compassionate and helped ease my panic attack. He was very truthful, insightful and dedicated to my health. Thank you all for being you!
Everyone here was great! Doctor was very understanding and patient with my severe anxiety with dentists due to past terrible experiences. Staff was helpful, polite, and friendly. I am extremely satisfied with my results!
Economy Dentures starting at $389
Extractions starting at $99
Signature Digital Dentures $2250
Dental Implants $1195
Mon-Fri: 8am - 5pm
Sat & Sun: Closed
Nearby Dentists in Wichita: