James A. Smith, MS, LCMFT - HERITAGE FAMILY COUNSELING SERVICES
James A. James A. Smith, MS, LCMFT - HERITAGE FAMILY COUNSELING SERVICES is one of the Three Best Rated® Marriage Counselors in Wichita, KS.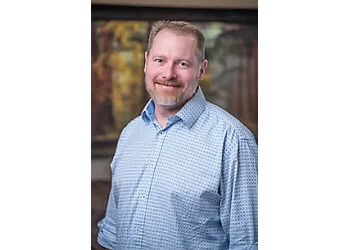 Smith is a Licensed Clinical Marriage and Family Therapist based in Wichita, KS. He holds a Master's Degree from Kansas State University. With his extensive expertise, he specializes in ensuring the safety and well-being of families. James A. Smith has also gained experience conducting team-building workshops for large and small enterprises. He works collaboratively with individuals, couples, families, and large groups. Furthermore, he is available as a speaker for various topics at retreats or workshops. James A. Smith practices at Heritage Family Counseling Services, a center committed to providing a warm and inviting environment where clients can feel comfortable and focus on their healing and personal growth journeys.
Parenting Evaluations

Workshops

Group Therapy and Speaking Engagements

Depression

Anxiety

Individuals

Couples & Family Counseling
Several members of my family have seen James over the years following the loss of loved ones or a few traumatic events that we experienced and we have recommended him to many friends and co-workers. He has helped several of my friends save their marriage and has been a rock for my teenagers when they have needed someone other than mom and dad to talk to. The staff of therapists at Heritage are amazing and you can feel the calming effect that the office brings by just walking in the door.
James helped my family through some horrible circumstances. Looking back, I'm not really sure how we would have coped without him. My now-husband and I ended up going back to him for our per-marital counseling, and were grateful for every minute! Not only does he sincerely care about each one of his clients, he also has the knowledge and skills to truly help them. Anyone would be blessed to see him.
Loved going here. Had the greatest counselor but everyone there was super nice and caring also. They also understood our financial status at the time and worked with us. Definitely recommend! Awesome Christian Counseling!! Never felt awkward or out of place.
Mon-Fri: 8am- 9pm
Sat: 9am - 6pm
Sun: 1pm - 8pm

Nearby Marriage Counselors in Wichita: