Health and Healing Bodyworks, LLC
Health and Healing Bodyworks has a skilled therapist who takes a therapeutic approach to massage services that leave you feeling relaxed, renewed, and ready to conquer the world. Health and Healing Bodyworks, LLC is one of the Three Best Rated® Massage Therapy in Wichita, KS.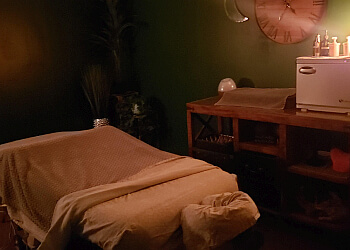 The center specializes in several different modalities, including Swedish, deep tissue, sports, prenatal, and many more, with the option of couples massages. Their therapists have an extensive understanding of traditional therapeutic modalities and advanced training in today's newest and most beneficial treatments. They also confer hands-on de-stressing massage through their wide range of therapeutic touch. You will leave them feeling relaxed, renewed, and ready to conquer all of life's challenges. They are here to help you with all your massage needs.
Aromatherapy

Therapeutic

Pre-Natal

Trigger Point Therapy

Sport

Deep Tissue

Couples and Sports Massages

Swedish

Reflexology

Hot Stone Therapy & Lymphatic Drainage
Erin was amazing! She customized my massage to exactly what I needed and listened when I asked her to dig deep. She even let me take in and use my own young living massage oil which I super appreciated! I don't think the muscles in my shoulders and upper back have ever felt this good! THANK YOU HEALTH AND HEALING BODYWORKS!!!
I received a massage from Taylor T and could not be more impressed. The office atmosphere was kind and casual and the climate of the massage area was what I hoped for. Relaxing, professional, and not heavily or overwhelmingly fragranced. Ask for Taylor T for an impressive and excellent experience. She's the best!
When in town, I was looking for a place to get my 91 year old mother a message to help with her back pain when I found Health and Healing online. Kim was so friendly and helpful when I called and got us both in the next day. Both of the therapists we had were great. This was my mom's first message and she loved it.
Mon & Tue,Thu & Fri: 9:30am - 8pm
Wed: 10am - 8pm
Sat: 10am - 6pm
Sun: Closed
Nearby Massage Therapy in Wichita: