Sveta's Skin & Body Therapy
Sveta's Skin & Body Therapy is a well-known Massage therapist in Wichita, Kansas. Sveta's Skin & Body Therapy is one of the Three Best Rated® Massage Therapy in Wichita, KS.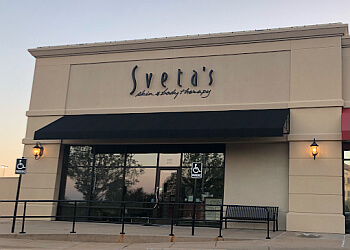 Only seven years after immigrating to the United States from Russia, 29-year-old Sveta Yakubovich is opening Sveta's Body Therapy, offering therapeutic massage and acupuncture at 2141 N. Bradley Fair Parkway in Bradley Fair. They recommend scheduling your appointment 2-3 days ahead of time, but same-day appointments may be available. They have many happy and well-satisfied customers with their excellent customer service. Visit Sveta's Skin & Body Therapy to get relief from all of your stress. Use one of Sveta's Skin & Body Therapy's pre-made Spa Packages or create your own. Great for yourself or a special someone.
Chemical Peel

Microdermabrasion

Hydro-Dermabrasion Facial

Signature Pedicure

Deep Tissue

Glow Massage

Couples

prenatal Massage

custom Massage

reflexology & Four Hands Massage
Just had a prenatal massage from Sveta! It was truly amazing and relaxing! I was having a lot of lower back pain and now I feel much lighter and a lot of pain relief. Highly recommend coming here if you are in need of a prenatal massage!
Today was my first time visiting Sveta's, but it definitely won't be my last! The staff is friendly & professional. Peyton provided wonderful customer service and immediately put me at ease. I couldn't be happier with the outcome of my waxing experience! Thanks so much Sveta's!!!
We had a 1 hour couples massage with Demetri and Peyton (sp?) and they were wonderful! My husband had a deep tissue and I had a regular. We will certainly be booking a 90 minute next time.
Deep Tissue Massage (50 Minutes) $1320
Massage W/sveta or Therapeutic Massage (50 Minutes) $1500
4 Hours of Bliss $435
the Duet $420
Mommy to Be $1035
Mon-Fri: 9am - 8pm
Sat: 8:30am - 6pm
Sun: 9am - 4pm
Nearby Massage Therapy in Wichita: