Sheridan Brothers Moving
Sheridan Brothers Moving is family owned and operated moving company in Rochester, NY. Sheridan Brothers Moving is one of the Three Best Rated® Moving Companies in Rochester, NY.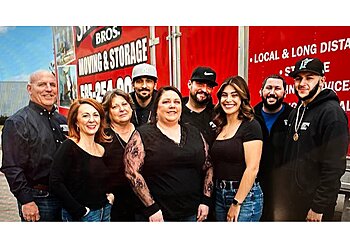 Mike Sheridan is the founder of Sheridan Brothers Moving. Their team has the tools and know-how to easily help you pack up your life and move it across the country. The company is dedicated to customer satisfaction and is proud to continuously build upon its reputation for professional, trustworthy, and reliable moving, storage, & full-service packing solutions. Sheridan Brothers Moving is proud to employ a team of experienced & well-trained movers. Their team treats you and your belongings with the care and respect you deserve. They provide all the packing materials you need and pack your items up and move them out for you. Sheridan Brothers Moving offers a free quote.
Commercial

Residential

House

Business

Office

Local

International

Military Moves

Townhome

and Apartment

Senior

Divorce-Sensitive

Moving Supplies

Warehouse Storage

PCS Relocation

Out-of-State & Long Distance
#TeamELITE! Will and Eric were AWESOME and ridiculously efficient. I needed a bunch of large furniture moved short notice and I was able to get booked for next day; the company service was great. They were there on time, super professional and did I mention FAST! These guys were stellar and treated everything (old furniture, etc.) with finesse and care. Super friendly and personable guys. Highly recommend!!
I have used Sheridan brothers 4-5 times over the last 2 years. They have always been quick to respond and right on schedule for the moves. I have compared pricing, and they are very competitve, while providing solid value. I am sure to use them again.
Had a great experience with Sheridan Brothers. The two movers Willie and Eric were amazing and very caring and gentle with my furniture, especially the antique furniture I have. They were also pretty quick as well. Would highly recommend this company.
Mon-Fri: 8am - 4:30pm
Sat: 9am - 1pm
Sun: Closed
MC #770031 | US DOT #2256609
Other Moving Companies in Rochester: