Brian Smith, DDS - SMITH ORTHODONTICS
Brian Smith, DDS - SMITH ORTHODONTICS is one of the Three Best Rated® Orthodontists in Wichita, KS.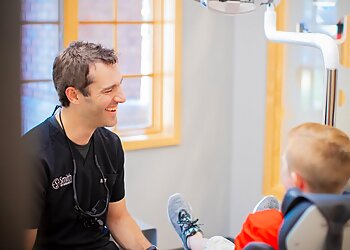 Dr. Brian Smith is a distinguished Board-certified Orthodontist practicing in Wichita. He embarked on his dental journey at the University of Missouri-Kansas City, where he obtained his dental degree. He completed an additional year of specialized dental training. Dr. Smith then honed his skills at the renowned Lancaster Cleft Palate Clinic in Pennsylvania during an internship. Dr. Brian Smith pursued advanced orthodontic training, earning his orthodontic certificate and Master's degree from Indiana University in 2011. His dedication to serving communities extends beyond his practice, as he has volunteered in numerous public health clinics and undertaken dental outreach trips to Central and South America, Russia, and Africa. Dr. Brian Smith continues the legacy of providing exceptional care. Over the years, Smith Orthodontics has successfully treated 8000 patients, establishing a reputation for being encouraging, joyful, and positive throughout the orthodontic journey. Dr. Smith and his team at Smith Orthodontics go above and beyond to ensure their patients have a convenient, affordable, and even enjoyable orthodontic experience. With a commitment to embracing modern technology, they offer both in-office and virtual consultation options, making access to orthodontic care easier and more convenient for all.
Digital Impressions

Mouthguards

Clear and Metal Braces

Clear Aligners

Oral Hygiene

Emergency Care

Loose Bracket

Lost Separator

Sore Teeth & Wire Irritation
We went to several other orthodontist offices in town before starting our journey. Smiths' Orthodontics is so comfortable as soon as you walk in the door you're greeted with a warm smile and welcoming environment. Every staff member we came into contact with was smiling and very polite. The consultation process was easy, and they made my 12 year old very comfortable, and he loved Dr. Smith. Everything is streamlined and easy to use. They have great communication and also an incentive program for kids to set up healthy habits. We love Smith Orthodontics!
I absolutely loved and appreciated each person that took care of me during this time. From the first consultation to the very last appointment, each time I left highly satisfied. I will be coming back to Smith Orthodontist once it is my daughters turn for braces!
Dr. Brian and his staff are very dedicated to providing the best standard quality care to their patients and it shows! I have been a dental professional for over 20 years and have known the family personally over those years. I highly recommend him to anyone who is looking for a quality orthodontist who goes above and beyond for his patients. He has completed comprehensive care for both my children as well as friends and family! So happy with the results! I will continue to recommend him in the future!!! Thanks again for amazing care from a great team!!!
Mon-Thu: 7:30am - 4:30pm
Fri-Sun: Closed
Nearby Orthodontists in Wichita: