Hart Pharmacy & Home Medical Equipment
Hart Pharmacy & Home Medical Equipment is a trusted pharmacy with three convenient locations serving the entire Wichita, Kansas community. Hart Pharmacy & Home Medical Equipment is one of the Three Best Rated® Pharmacies in Wichita, KS.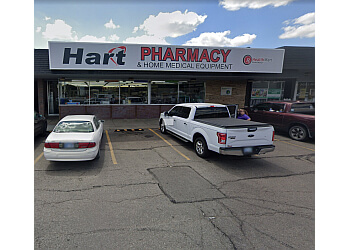 They believe in providing high-quality, personalized service that prioritizes your health and well-being, and offers affordable options to meet your needs. Their experienced and friendly staff go above and beyond to make you feel comfortable and confident in your prescriptions, compounding medications, and home medical equipment. At Hart Pharmacy, they understand that everyone's healthcare needs are unique. That's why they offer a wide range of services, including over-the-counter medications, prescription filling, and home medical supplies. Their skilled team can help you navigate your insurance coverage and find cost-effective solutions that work for you. Hart Pharmacy also offers free delivery throughout the local area, making it easy and convenient to get the medications and supplies you need. And now, they are also offering COVID-19 testing to help keep their community safe and healthy.
Fever

Colds

Cough

Digestion

Gastrointestinal

Oral Care

Prescriptions Medication

Wheelchair

Flu

Home Medical Equipment

Lift Chairs

Diabetes and Glucose Test Strips

Blood Glucose Monitor

Compounding Medications

Bio-Identical Hormone Replacement Therapy

Diabetic Footwear

Cold

Pain Management

Men's & Women's Health
I would absolutely recommend this medical equipment pharmacy to everyone!! The reason why is because of Josh an awesome employee that works there, he went above and beyond the call and was very polite and courteous!! He also helped us through the process along the way!! We truly appreciate Josh!
Very nice, well-stocked drug store with old fashion personalized service. My first time using them, filled a custom prescription. Staff was personable and efficient.
So incredibly helpful and knowledgeable! Tiffany helped me to fill out my paperwork and showed me how to work my equipment and feel comfortable in it. I've never had a better experience at a pharmacy.
Most Insurance Plans are Accepted
Mon-Fri: 9am - 6pm
Sat: 9am - 1pm
Sun: Closed
Nearby Pharmacies in Wichita: