Blue Zoo Aquarium
Blue Zoo Aquarium, nestled in Spokane, WA, is an exceptional interactive aquarium that promises to captivate visitors of all ages. Blue Zoo Aquarium is one of the Three Best Rated® Places To See in Spokane, WA.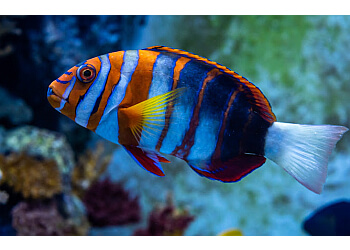 The aquarium provides an immersive experience with its fascinating exhibits, including a magnificent 24-foot pirate ship and two engaging water tables. With a steadfast commitment to education and inspiration, Blue Zoo Aquarium has made it its mission to create a welcoming and hands-on environment that nurtures curiosity and learning. Through interactive displays and informative presentations, visitors are encouraged to explore the wonders of the aquatic world and gain a deeper understanding of its inhabitants. The aquarium showcases a captivating array of sea creatures, including mesmerizing jellyfish, vibrant clownfish, graceful seahorses, intelligent octopuses, and even awe-inspiring sharks. Every visit to Blue Zoo Aquarium promises an opportunity to marvel at the beauty and diversity of marine life.
Saltwater Center

Interactive Play

Fresh Water Center

Pirate Ship

Water Play Tables

Touch & Feed
Pleasantly surprised! First time visiting today and loved it. Sting rays were my favorite. They had divers, mermaids, and non aquatic species to keep interest peaked throughout. The staff was great. Loved Mackenzie taking the time to sit with us and converse while petting the tortoise. It looked and felt clean. I liked that it didn't seem like the tanks were overcrowded either. On the way out we stopped for ice cream in the mall. Great family day experience, thank you!
My daughter and I enjoyed not only being able to see the fish and animals but being able to feed them as well. Feeding the sting rays was so exciting. The manicure fish was such a crazy but fun experience! The staff were all so friendly and knowledgeable about the animals which made the experience fun and educational!
We took my niece and nephew and had the most fun! Lots of smiles and excited laughter from them! The animals are really cute as well. It's definitely a good place to visit.
ANNUAL PASSES:
Adults & Teens: $19.95
Children:$16.95
Military: $17.95
12 or More: $13.95
Mon-Thu: 11am - 7pm
Fri & Sat: 11am - 8pm
Sun:11am - 6pm
Nearby Places To See in Spokane: