Cat Tales Wildlife Center
Cat Tales Wildlife Center is a remarkable haven for wildlife rescue and rehabilitation. Cat Tales Wildlife Center is one of the Three Best Rated® Places To See in Spokane, WA.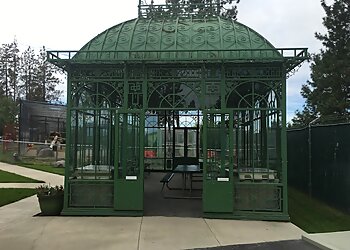 Founded in 1990 by the passionate duo of Mike and Debbie Wyche, the center was officially incorporated on July 27, 1991, as a 501(c)3 non-profit charity. Committed to its mission of providing a safe and secure home for rescued big cats and wildlife, Cat Tales Wildlife Center has become a beacon of hope and compassion for animals in need. Visitors to Cat Tales Wildlife Center are treated to a private and guided tour, allowing them to witness firsthand the incredible work done to protect and care for these majestic creatures. As a testament to their dedication to education and conservation, the center offers an interactive experience where visitors can hand-feed a big cat or black bear with age restrictions and under careful supervision. This intimate encounter fosters a deep connection between visitors and the animals and is a powerful educational tool.
Wildlife Rescue

Rehab

and Education Center

Big Cat & Animals
I had the best time here today. It's so clear everyone loves the cats (and others!) so much. I got to feed here white tiger. We had little chuff talks with the other tigers. I loved watching the foxes slide across the snow after food time. Very cool spot.
It was decent experience. Center is small but good option if you're looking for a quick outing with small kids. Home for big cats, we saw tigers, cougars as well as some smaller animals like different types of fox, raccoon etc
Great people there amazing animals. You get to feed the animals! The gift shop is alittle pricey but it's nice as well on items to get while there. The price for feeding the animals is definitely worth it.!
Adults: $15
Children (5-12): $10
Students (13-18 & up to age 22 with student ID): $12
Senior Citizens (65+): $12
Tue-Sun: 10am - 4pm
Mon: Closed
Nearby Places To See in Spokane: