Creative Minds Learning Center
Creative Minds Learning Center is one of the well-known preschools in Brownsville. Creative Minds Learning Center is one of the Three Best Rated® Preschools in Brownsville, TX.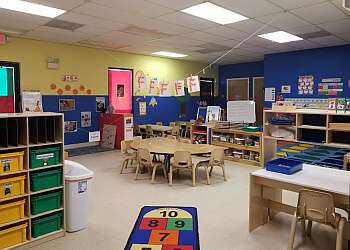 They have been proudly serving the Brownsville community for over 25 years. They strive to create a safe and developmentally appropriate environment for children from infants to school-aged. Their philosophy revolves around enriching children's lives through creative arts and accredited educational materials while fostering self-esteem, confidence, and independence. The center's play-based approach to learning is designed to instill a lifelong appreciation for education. The staff and educators are caring and dedicated to nurturing each child's potential and promoting a love of learning. Creative Minds Learning Center provides various programs that aim to aid in children's cognitive, social, emotional, and physical development.
Physical

Cognitive

Writing

Art

Science

Talking

Listening

World Knowledge

Understanding

Math

Social

Emotional

Communication Skills

Reading

Field Trips

Personal

Language

Literacy Skills

Indoor Activities

Outdoor Programs & Puzzles
Creative Minds Learning Center has provided some of the best services money can buy. I love this daycare & how well the teachers works together. This is my child's first time experiencing any type of child care and they have enjoyed every moment of it. The teachers are very patient, attentive, and very sweet and their facility is top notch. I would recommend this daycare to anyone in the area, they truly are a Loving Family!
have had both my boys at this center since about age 1 1/2 and they absolutely love it! They always have them working on different activities to prepare them when they enter school. All the teacher are great!
After reviewing other daycares in my area to find what was a best fit for my kids, Creative Minds stood out the most. I love how it's not only a daycare, but also TSR, preparing the little ones for when they start school. They have events for families celebrating holidays, birthdays, preschool graduations, anniversaries, and more. The food is amazing and nutritious! My kids will make me wait for them to eat when they look forward to certain food like pizza or burgers. The owners and staff are very welcoming, professional, and all about the kids. I trust my kids with them, in transportation as well as in their facility.
Mon-Fri: 7am - 7pm
Sat & Sun: Closed
Nearby Preschools in Brownsville: