De Becker Investigations, Inc.
De Becker Investigations, Inc. De Becker Investigations, Inc. is one of the Three Best Rated® Private Investigation Service in Las Vegas, NV.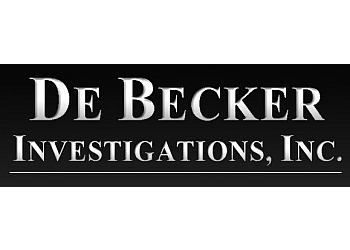 is a reputable and dependable private investigator firm based in Las Vegas. The company was founded by Hal de Becker III to provide high-stakes surveillance services needed by individuals, corporations, and governmental agencies. DBI's extremely high rate of success is based upon thoroughly understanding their client's goals and customizing each case to their needs. The company is licensed by the State of Nevada, the Office of the Attorney General, and the Private Investigators Licensing Board. They specialize in high-stakes surveillance, a niche service that they have developed and perfected. Their team of experienced investigators undergoes exclusive training in the art of surveillance, guaranteeing reliable outcomes for every investigation they undertake. With a comprehensive understanding of their client's objectives, De Becker Investigations, Inc. customize each and every case to meet their specific requirements while upholding absolute discretion and confidentiality. Safeguarding the privacy of De Becker Investigations, Inc. clients and potential clients is their utmost priority.
Domestic

Theft

Breach of Contract

Parental Neglect and Fraud Investigations

Difficult Service of Process

Child Custody

Counter Surveillance

Undercover

Sensitive Operations

Personal Injury

Worker's Compensation

Tracking & Due Diligence
I cant say enough good things about De Becker Investigations. They were not only empathetic to my family's private and sensitive situation, but they made it a top priority in finding our nephew and taking him from the streets of Las Vegas to a treatment facility across the country. Hal, we especially thank you for the compassion you showed during your engagement.
Hal DeBecker, Is one of the most trustworthy people I've done business with in a very long time. His professionalism was Impeccable, the sensitivity he showed to my case in a very sensitive time in my life. I cannot express how pleased I was knowing he was there for me.
I can't thank De Becker investigations enough! I originally thought hiring a private investigator might be a little excessive, but the entire experience was absolutely priceless. The De Becker team Left no stone unturned, and found every missing piece of the puzzle by their proximity, promptness and great communication and footage! Their loyalty and professionalism also gets five stars! Thank you De Becker Investigations!
Nearby Private Investigation Service in Las Vegas: