Events Xtreme Party Rentals
Events Xtreme Party Rentals, a trusted industry leader since 2003, has become synonymous with exceptional wedding and party tent rentals. Events Xtreme Party Rentals is one of the Three Best Rated® Event Rental Companies in Modesto, CA.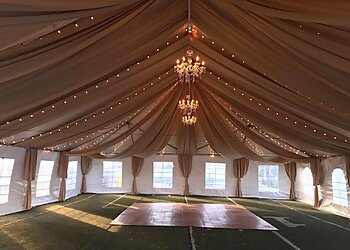 Their specialization lies in providing top-quality tablecloths, chair covers, and exquisite wedding decor, ensuring that every event is a visual delight. Their extensive industry knowledge and expertise make them a reliable choice for any occasion. Offering a comprehensive range of canopies and tents to accommodate events of all sizes, Events Xtreme boasts a vast inventory of event rental items to meet diverse needs. They are particularly renowned for their wide selection of linens in various sizes, ensuring a perfect fit for any table. Exceptional customer service is at the core of their operations, with a knowledgeable staff well-versed in all aspects of event rentals and dedicated to providing high-quality equipment. Collaborating closely with you every step of the way, Events Xtreme Party Rentals offers valuable assistance in making informed decisions and transforming your party into an extraordinary affair.
Tables

Chairs

Glass Vases

Covers

Coffee Maker

Tablecloths

Gold Bead Chargers

Covers

Coffee Maker

Tablecloths

Gold Bead Chargers

Beverage and Catering Equipment

Drink Dispenser

Tabletop and Event Accessories

China Items

Furniture

Linen

Glassware

Cake Stand & Groundcover
Loved how everything came out. I rented a 40x60 tent for my wedding and it looked a lot bigger than whatI thought. I made last minute changes due to the weather (rain, lots of it), they had no problem and had everything I needed the day before the wedding. I also made some decorations to hang and the guys setting up were so nice and had no problem with me doing so. They made sure it was sturdy enough for the day. The outcome was so BEAUTIFUL!!! I received so many compliments on it. The lighting and decorations made it look like a hall. I got heaters so the rain didn't stop anything, we didn't notice it rained unless we walked out. Definitely recommend getting walls if it will be windy if not it will look beautiful without them. And the LIGHTING!!! I didn't think of that until they asked if I wanted it. I got the 3 chandeliers and the small lights and at first I thought it wouldn't be enough but iU was so wrong, it lit up everything. If you are looking to have an outdoor party I would definitely recommend them.
We had a wonderful experience with this business. They donated half of the cost for plates and utinsels for a fundraiser we had. We loved them so much we also used them for a wedding and were treated wonderfully. The deliver and pick up, everything we used was quality. Thank you Nancy for such an amazing experience! I will recommend you guys for everything party related.
we used events xtreme for our wedding this past weekend and it was absolutely amazing!! beautiful business great staff lovely location!!! thank you nancy for helping us bring the vision to life!!! our night was so magical!!! 5 stars.
Holiday Special Decor Package 20 from $299
Mon-Fri: 11am - 5pm
Sat & Sun: Closed
Nearby Event Rental Companies in Modesto: