Captain Bill's Submarine
Captain Bill's Submarine is a popular eatery conveniently located just two meters from North 35th Avenue, making it easily accessible from anywhere in the city. Captain Bill's Submarine is one of the Three Best Rated® Sandwich Shops in Phoenix, AZ.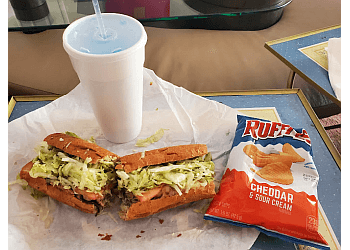 The CB Crew consists of a friendly and efficient team known for their quick thinking and easygoing nature. Captain Bill's Submarine restaurant offers a unique dining experience, including the option of intimate service for smaller events with comfortable semi-private dining areas adorned with red velvet drapes. The menu features their signature subs, such as the teriyaki chicken with Swiss cheese, spicy mustard, teriyaki sauce, onion, jalapeno, and lettuce, as well as the BBQ chicken with bacon and cheddar. In addition to their subs, the restaurant also serves other delectable fare, including soups and grilled dishes. They are dedicated to providing their customers with an unforgettable and distinctive dining experience every time they step through the door. The restaurant's interior is adorned with various collectibles, wall stickers, and vintage photo collages on the tables, creating an ever-changing visual feast for the eyes. Whether you're grabbing lunch with friends or coworkers, enjoying a fun date, or simply craving a late-night snack, Captain Bill's Submarine is the perfect destination.
MENU: Spicy Roast Beef with Horseradish and PJ Cheese

Pastrami and Provolone

Cheese

French Dip

N.Y.B Roasted Beef

Brisket and Cheddar

Meatball

Italian Sausage

Chicken Parmesan

Chicken Deluxe Bacon and Swiss

Potato Salad

Dill Pickle

Pepperoncini & Jalapenos
Captain Bills Subs is a delicious choice for a fresh sandwich. The Goods are awesome hot or cold they got you covered. Also you have to try the potato salad it's super delicious and comes in a combo as well. So come on down to this awesome sub shop and enjoy the cool vibes and great atmosphere. Remember to tip for your favorite. You'll know what I mean when you check this spot out.
I can't believe how low the prices are here. Loved this place and loved the nostalgia just as much as my sandwich! So many things to marvel at and funny bumper stickers all over the walls. Fast friendly service and it was like stepping into the early 80's! Was awesome! Will absolutely go back!
I absolutely love this place! It has a dive bar feel with quirky and fun decor, including lots of stickers all over the walls. The atmosphere is relaxed and laid-back, making it a great spot to grab a sandwich and hang out with friends. Speaking of sandwiches, the food here is top-notch. I've tried several different options and they've all been delicious. The ingredients are fresh and the combinations are creative, making for some truly tasty sandwiches. And to top it all off, the prices are very reasonable, making this a great value overall. I can't recommend this place enough - it's quickly become one of my go-to spots for lunch or dinner. Whether you're looking for a classic sandwich or something more adventurous, they have plenty of options to choose from. And with such a fun atmosphere, it's a great place to spend some time with friends and enjoy some great food. Overall, I highly recommend checking this place out - you won't be disappointed!
Cold Specialty Starts from $5.69
Hot Specialty Starts from $5.99
Subs Starts from $7.99
Wraps Starts from $9.25
Salads Starts from $9.29
Soup Starts from $3.50
Sweets Starts from $2.99
Drinks Starts from $2.50

Mon,Tue & Sat: 10am - 8pm
Wed-Fri: 10am - 9pm
Sun: 11am - 7pm
Nearby Sandwich Shops in Phoenix: