Thai Prime Kitchen & Bar
Thai Prime Kitchen & Bar is family-owned and operated by the Chong Family Thai restaurant located in Tampa City, which aims to provide its customers with delectable Thai cuisine and exceptional service. Thai Prime Kitchen & Bar is one of the Three Best Rated® Thai Restaurants in Tampa, FL.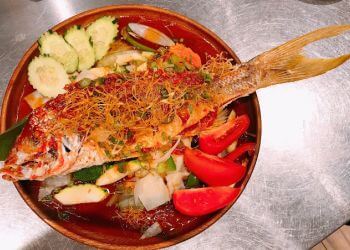 This cool spot is located in Metwest International. The restaurant's main objective is to offer locally sourced, fresh, and high-quality Thai dishes with genuine homemade sauces from Thailand. With their diverse menu options, there is something for everyone at Thai Prime, making it an excellent dining destination for both you and your guests. Furthermore, Thai Prime is an excellent choice for catering events of any size, from small gatherings to large celebrations. Their Grilled Snapper, made with Artichoke, peppers, Brussels sprouts, cherry tomato, garlic sauce, and rice, is one of their fresh and tasty dishes. Thai Prime also offers gift cards for its customers.
MENU: Grilled Snapper

Grilled Mahi Mahi

Drunken Fried Rice

Amazing Land

Screamin' Chicken

Teriyaki Chicken

Jumbo Shrimp Pad Thai

Sweet Basil Grilled Mahi Mahi

Snapper Jungle Curry Fried

Little Tofu Egg Plant

Grilled Chicken Salad

Thai Chicken Salad

Sashimi Salad Bowl

Panang/Red/Yellow/Massaman/Green Curry

Volcano Tofu & Thai Donuts
Best Thai food & sushi!! Came on a Friday night, but the sushi was GREAT & fresh! Ordered spider roll, screaming orgasm, Mexican rolls and salmon salmon. Also got the drunken fried rice with pork. All the food was amazing and so was the server! Can't wait to come back!!
Excellent food and friendly staff. We had a great dinner here. We started with gyoza and tempura veggies/shrimp. For main courses we had pad Thai, crispy duck, veggie curry, seafood tom yum soup bowl, and teriyaki chicken. All were delicious. We'll definitely be back.
I came in for lunch. The joint was packed so I sat at the bar. I was very impressed by the portions and the quality of the ingredients in the Pad See Ew with beef. To my pleasant surprise, the dish came with a spring roll and a cup of seaweed soup. I requested and received crushed red pepper and chili paste, which were perfect compliments to everything I ate. The Mule was an excellent choice to tame the heat. The service, value for the money, and satisfying meal are reasons why I will return soon.
Starters Starts from $7
Soups Starts from $6
Entrees Starts from $13
Curries Starts from $13
Fried Rice Starts from $13
Vegetarian Starts from $18
Salad Starts from $6
Crispy Duck Starts from $26
Seafood Starts from $22
Desserts Starts from $7
Beverages Starts from $3.25
Side Orders Starts from $1
Mon-Sat: 11am - 10pm
Sun: 11am - 9pm
Other Thai Restaurants in Tampa: