Real Life Counseling
Real Life Counseling comprises a skilled group of therapists and counselors dedicated to serving Wichita, Kansas, and its neighboring communities. Real Life Counseling is one of the Three Best Rated® Therapists in Wichita, KS.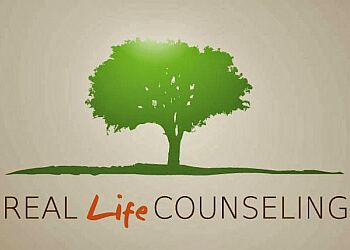 Their overarching objective is to offer a space where individuals can embark on a mental, emotional, and spiritual healing journey. The crucial initial step is ensuring that clients feel safe and supported within the therapeutic environment. They are listening, understanding, and guiding clients toward healing are at the core of their approach. With ample experience and genuine care, the team of professionals provides their services to individuals, couples, and families of all ages. Their therapeutic offerings encompass evidence-based approaches, and they also conduct psychological evaluations and offer play therapy specifically designed for children.
Abuse

Trauma

Adhd

Adoption

Art Therapy

Biofeedback

Bipolar Disorder

Child/Adolescent Behavior and Developmental Issues

Couple/Marriage

DBT Group for Emotion Regulation

Depression

Divorce Counseli

NG (Pre- and Post-)

Emdr for Trauma and Anxiety

Family Communication and Conflict Resolution

Grief/Bereavement

Hypnotherapy

Depression and Compulsive

Impulsive Behavior

Individuals

Couples and Families

Insecurity

LGBTQIA+ Premarital Counseling

Oncology Support Groups at Wesley Children's Hospital Play Therapy and Sand Tray

Psychological Evaluations

Psychophysiology

Spiritual Direction

Forgiveness/Reconciliation & Stepfamilies
I have been a patient of Monique Horton for over a year and I can't put into words what she has done for me. Monique is the type of therapist that truly cares about her patients and wants the absolute best for them. I was at my lowest point, barely hanging on. Honestly, my children were the only thing keeping me going. It hurt just to be awake. I've been in and out of therapy since I was 10 years old and struggled to find anyone who understood me and cared to help. That all changed when I found Monique. I meet with her every week and honestly, I always look forward to seeing her and her glowing smile. She has helped me make so much progress that I thought was impossible before. Not only is she an amazing therapist, but human being. I can tell her anything and she always listens with no judgement. The amount of love and empathy she has is truly amazing. I don't usually give reviews on anything but I really felt the need to share my experience. While therapy is a journey and not a sprint, I know she will be there to hold my hand and guide me through my journey. It's incredibly comforting to know I have her and she always has my best interests and happiness at heart.
I've known and worked with several clinicians at RLC for years. They care about their clients, provide different specialties, and are owned by caring, compassionate therapists as well. I refer clients to them that don't match my current office, as they are a trusted resource here in Wichita.
This is a great therapist office. All of the staff is super friendly and compassionate. The therapist that helps my son has completely changed his life for the better. Couldn't ask for a better therapist or a better facility!
Aetna, Amerigroup (Kancare), Blue Cross Blue Shield, Coventry, Healthwave, Humana, Kancare (Medicaid), Mhnet, Preferred Health Systems (Ppk), Sunflower (Kancare), Tricare & United (Kancare and Commercial Plans)
Mon-Sat: 9am - 9pm
Sun: Closed
Nearby Therapists in Wichita: