Pet Haven Veterinary Clinic
Pet Haven Veterinary Clinic stands as a leading veterinary clinic in Wichita, offering exceptional care for your pets. Pet Haven Veterinary Clinic is one of the Three Best Rated® Veterinary Clinics in Wichita, KS.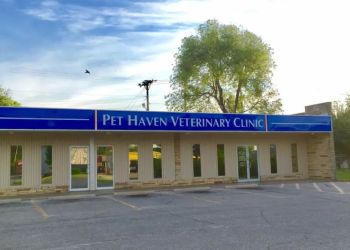 With a focus on quality preventative measures and valuable treatments for sick or injured pets, the clinic is dedicated to promoting the well-being of your furry companions. Pet Haven Hospital is equipped with a state-of-the-art veterinary facility, ensuring that your pets receive the highest standard of care. Utilizing cutting-edge techniques, they strive for optimal results in safeguarding your pet's health. The team at Pet Haven Veterinary Clinic is committed to enhancing the overall health and well-being of your beloved pets. They provide a wide range of comprehensive services tailored to meet their needs. Additionally, they have an online shop where you can conveniently order your pet's necessities and medications. Pet Haven also offers telemedicine consultations for specialized services, employing upgraded technology and an expanded in-house laboratory for efficient diagnostics. To further prioritize your convenience, they provide online appointment booking facilities, ensuring a seamless experience for both you and your pet.
ECG

Dentistry

Internal Medicine

Vaccinations

Spay/Neuter

Flea/Tick Control

Geriatric Care/ Disease Screening Programs

Dermatology

Behavioral Counseling and Treatments

Prescription Diets

Microchipping

Examinations

Soft Tissue and Orthopedic Surgery

In-House Laboratory

Digital Radiology & Heartworm Preventatives
My kitten was very sick. My vet is way out town. I had too my other cat to get fixed and they were awesome. When I called they cared and got her in the same day. Even tho they was really busy. If it wasn't for them seeing her that day I don't think she would have been with us today. Awesome small vet that don't rush or hurry you. They want to help your pet and you! Awesome vet!
Took very good care of Shelby and Snoop. Both had lumpectomies and couldnt be happier with the job they did and the support afterwards. Been coming here for over 10 years and dont plan on going anywhere else!
If you need an affordable vet, I love them. I've been seeing them for 2 years & they're always so kind. Their treatments are sooo much more affordable than most & you can trust them to be comforting to your babies if you need an overnight stay. They updated me regularly & never got annoyed for my endless calls.
Mon-Fri: 8am - 6pm
Sat: 9am - 12pm
Sun: Closed
Nearby Veterinary Clinics in Wichita: